As you've been reading, I was introduced to several wonderful companies and products at the NYIGF but my favorite and the one I'm most likely to shout their name from the highest mountain over and over is Grandmother's Buttons. What exactly is Grandmother's Buttons you may be asking yourself? Well it's a line of very beautiful jewelry made from Antique (circa 1880s-1910s) and vintage (circa 1920s-1950s) buttons. My friends know that I love vintage stuff – clothing, furniture, etc. Infact (and I think I've stated this before), my engagement ring will surely be either antique or vintage.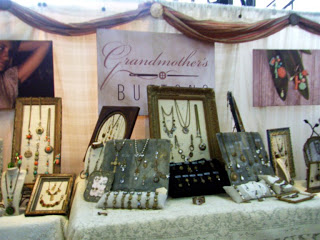 Started by Susan Davis in 1985, who as a young girl spent the afternoon sifting through the odd assortment of tins and boxes that held her 95-year-old grandmother's lifetime accumulation of buttons, Grandmother's Buttons has grown substantially. The company is located at the corner of Royal and Prosperity streets, in the heart of the Historic District in a turn-of-the-century bank building in St. Francisville, Louisiana's. " The authentic antique button jewelry was a huge hit and in the early nineties, the company expanded to form GB Collection, which produces replica button jewelry, as well as accessories and collectibles — all inspired by these tiny fasteners of the past." I can't get over the beauty of the jewelry from this company. Just the fact that you'll wearing something that is older than anything you've known is amazing; I mean each button had another life, saw (I know not technically) the world in a totally different time and survived. It makes me wonder about the people who wore these buttons on their shirts, pants, etc. What did they see, do, experience; to what did they wear the clothing the buttons were sewn to?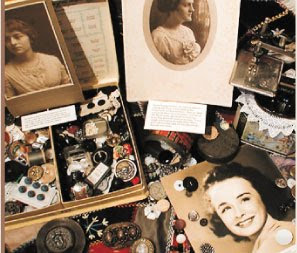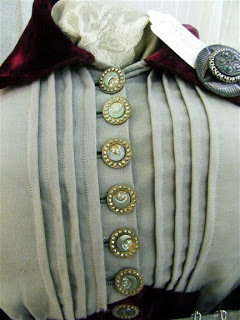 "The creations of both Grandmother's Buttons and GB Collection are sold in more than a thousand boutiques and museum stores across the country, an impressive list which included Lord & Taylor; Fred Segal; Museum of Fine Arts, Boston; Nordstrom; the Biltmore Estate; Signals; Orvis; J. Jill; and Norm Thompson. The company has also been featured in a host of publications including Victoria, Family Circle, Southern Living, Country Home and Modern Bride."
The line consists of Necklaces, Rings, Bracelets, Earrings, Watches, and Brooches. I took the following photos (see below) at the NYIGF. As you can see they are absolutely gorgeous.
I do have a few photos (courtesy of the Grandmother's button's website) with more detail so you can see the true beauty of each piece
As stated before, Grandmother's Buttons is located in an old bank. "In the old bank's vault, guests are invited to discover hundreds more buttons in their fascinating Button Museum. This historical gallery features all forms of the antique fasteners, from a hand-chased brass button made exclusively for George Washington's first inaugural, to the wildly imaginative Bakelite buttons of the 1930's."
If you can't get to Louisiana in the near future, may I suggest purchasing her Beautiful Button Jewelry Book. For a mere $24.99, you can enjoy beautiful photographs as Susan "opens her jewelry box to share more than 25 dazzling designs–earrings, necklaces, brooches, watches and bracelets all made with buttons dating back to the Victorian era through the 1950s."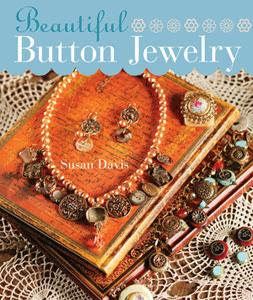 I did interview the incredibly sweet and amazing Susan Davis (it took me a while because as I said, the entire gift fair was enormous) but it was worth the wait. Every piece of this line is beautiful and they all look like heirlooms you'll certainly want to pass on to your family. I think everyone should own a piece (or several) of Grandmother's Buttons – I do and I plan on adding to and building my collection.