For the second season, Arise, the African Fashion Magaine presented the African Fashion Collective featuring four African Designs. This season, we had the pleasure of being introduced to the collections of Jewel by Lisa, Tiffany Amber, Eric Raisina and David Tlale.
First up was Jewel by Lisa, a New York city-inspired collection designed by Nigerian designer Lisa Folawiyo, who experimented with combining different batik prints together to create fun looks. Her collection was filled with Taffeta, Linen, Chiffon, Beading, Sequins and Swarovski Crystals. My favorite pieces were a Mustard Paisley print Trench and Skinny Trousers with an embellished detail and a Long Multi-colored print dress.
For more from the collection, check out her show finale below
The next collection was Tiffany Amber by another Nigerian designer, Folake Folarin-Coker, who returns to the New York Fashion Week tents after showcasing during the first Arise: African Fashion Collective in February. Her new collection was inspired by Diana Ross in the 1974 Motown hit, Mahogany. There were long flowing dresses, exaggerated sleeves, color and texture. I am and have always been a fan of long dresses, I find them so feminine and always feel so sensuous. Below are the ones that caught my eye
Take a look at Folake's Tiffany Amber Collection show finale below
We move from Nigeria to Madagasca, as we're introduced to Eric Raisina's Haute Texture Collection and to the wondrous various colors of the African continent – the lush greens of the trees and bushes, the gorgeous purples, oranges and reds of the sunsets, the blues and greens of the ocean and everything in between.
Eric is a master of weaving and getting fabrics to showcase these rich colors with his dyeing techniques and has created a "silk fur", which you can see in the yellow dress above. See the rest of his wonderful collection in his show finale below
Last but certainly not least, we have South African designer, David Tlale who was the only designer to show both menswear and womenswear (I really appreciate him bringing back model, Tyson Beckford to model again in the Arise show. That man is beautiful to look at)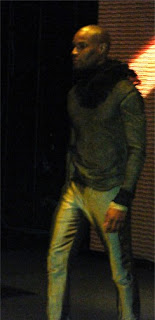 Unlike the other designers, David didn't show too much color, his color palette was very simple – creams, taupes, tan and black with a brief appearance by olive green. His collection was filled with romantic yet modern looks. There were classic shapes and details such as pleats, fringe, beading and ruffles.
See David's show finale below
And just in case you missed a look, here is the finale of all four designers