Yesterday I highlighted Jergens's new odor-free sunless tanner, today I'm showcasing the opposite – sunscreen. This new preventative sun care product, called SunSheer Sunscreen, is from innovative skincare company, Previse Skincare.
SunSheer
is a hypoallergenic, water resistant to 40 minutes, sun protection product that contains wonderful botanicals and cooling ingredients to help minimize inflammation and the restorative, stress relieving essence of pink grapefruit.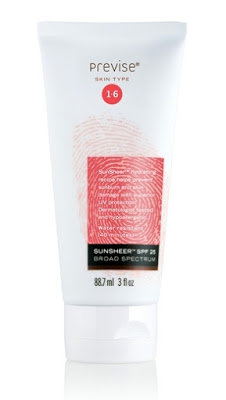 What's even more amazing about SunSheer Sunscreen? Not only does it provides hypoallergenic UVA/UVB protection, reduces the risk of skin cancer and early skin aging as well as helps prevent sunburn, it also helps boost collagen and hydration while reducing fine lines and wrinkles with its multi-action antioxidants and licorice root extract. SunSheer is of course suitable for all skintypes and skintones – there is no cause to worry that SunSheer will leave a white cast on your skin as it completely disappears into all skintones leaving nothing but full sun protection, whether you have a light, medium, deep or dark complexion.
SunSheer is the perfect complement to the three-minute Previse Skincare regimen (have you taken their skin care consultation and determined your ideal skincare regimen? I'm a 4-5 skintype). It took over two years for this wonder suncare product to be developed mainly because it features Previse's exclusive micronized zinc and titanium proprietary recipe. This ZeroSilconer™ recipe is free of harsh preservatives, skin clogging silicones, petroleum, synthetic oils, dyes, and fragrances. Get to know all of Previse Skincare's products by checking out their website – https://www.previsecare.com/.
UPDATE: Previse will now be producing two (2) SunSheer products. Both will have the same benefits and will retail for $36.00 each but one, called SuperChill, will feature the heat cooling sensation while the other will not and will be geared towards those who have sensitive skin or who prefer a natural, sensory element.