On November 5th, celebrity stylist Robert Verdi along with
Sculptz®
President & CEO, Jean P. Vernor, hosted the New York City debut of the Sculptz shapewear and legwear collection at The Glasshouses.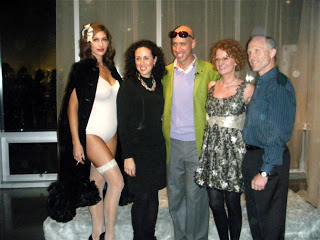 The event, titled "A Girl For All Seasons" featured vignettes that brought iconic 1940's and 50's pin-up illustrations to life. Live models of all shapes and sizes, dressed in Sculptz's shapewear and legwear, evoked their inner Vargas girl in the season-inspired sets, providing a striking visual to highlight the Sculptz product.
The beautiful live models wore various items from the collection including the Sculptz's High-Waist Shaper Brief, NEW Animal Opaque Tights, NEW Spacer Technology Support Bra, High-Waist Shaper Brief, Lacy Top Thigh Highs and Body Shaper. All of the models raved about the comfort of the collection so much so that I had to try it. It is my absolute pleasure to say that the models were right. The beautifully designed opaque tights were very comfortable. They weren't restrictive and didn't ride up (which is usually a huge problem for women everywhere no matter what size). Both Zia and I tried the tights. The construction of the tights reduced signs of visible panty lines, slimmed our hips (by almost 2 inches!) and lifted the butt (I bow down to thee oh fabulous Sculptz).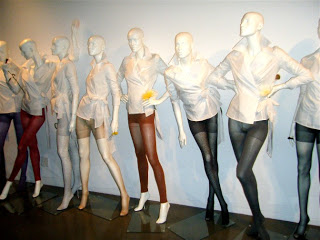 In addition to the tights, Zia tried The Sculptz Shorts – Shaper Top.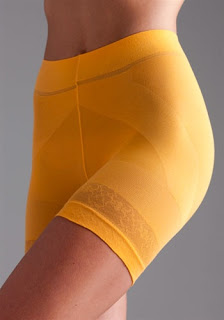 She wore the shorts under both jeans and a dress with mix results. On both occasions the sculptz shorts slimmed her hips and lifted her butt, which was the reason she wore them, but they wouldn't stay in place on her thighs. She said when they rolled up they were uncomfortable and appeared to make her look bulky in the hip area. She stated she tried the size suggested on the package for her height and hip size but she also admitted she possibly overestimated her hip size (I concur as she really believes she's bigger than she is) which some women tend to do sometimes. I'm guessing that may be the reason the shorts wouldn't stay in place.
I, on the other hand, tried The Sculptz Spacer Technology Body Briefer and Sculptz Spacer Technology Underwire Cami.
I requested a size medium but was sent smalls by mistake (this I didn't notice until I was already putting on the body shaper). My self esteem was tested when halfway on, the shaper became, let's say difficult to put on. Relief kicked in when I realized it was a small and not a medium. Since I already had it halfway on, I continued and low and behold I got it on and all I could say was WOW! Even with the "size-too-small", it smoothed out my body, lifted all that needed to be lifted and sucked in all that needed to be. I looked like a size 6 again (ohh those sweet ole days) and I could still breathe, and bend and sit (hooray!!) – of course by the end of the day, it was uncomfortable. I medium would have been absolutely perfect).
As stated above, both Zia and I tried on the tights (I had the medium) and it felt like I was wearing nothing, they were so comfortable and the best part – no riding up or rolling down. I usually have to start pull up my tights and/or leggings after ten minutes of walking but not with the Sculptz, no discomfort, no adjusting…as I said, I forgot I had them on.
Wrong sizes aside, both Zia and I were pretty darn happy with our Sculptz Shapewear and I know you will be too. Check out Sculptz for yourself at www.sculptz.com.