During New York Fashion Week, Kim Kardashian hosted the showcase of the collaboration between bebe and the Kardashians at Style360's offsite shows and presentations. I didn't know what to expect but I was very curious about what the collection. I know Kim Kardashian was once a "stylist" for Brandy and Ray J's mom but…..
Anyway, after receiving the invitation and accepting (with back and forth communication with the PR Agency), I arrived to find that I wasn't on the list (really?) but I was let in anyway (I almost had to pull out the emails on my blackberry). The show was supposed to start at 10am but started about 45-50 min later (they were waiting for Kim); when the light came on, here is is what we saw
To me the short, fitted dresses reminded me of what bebe already does, I'm not sure what Kim brought to the table (I guess her wardrobe is mostly what you see above) but there is some controversy regarding her apparent knockoff of a dress from Fendi's 2009 collection (the first photo above and a garment she actually wore to the fashion show)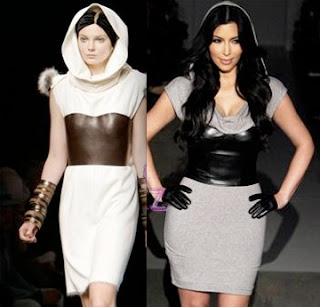 But it seems that's not the only thing she has knocked off – A Houston based jewelry company, called Korcula, is suing her for knocking off their necklace design to use for her fragrance. Anyway, please see video of the show's finale below, unlike most designers, Kim was sitting in the audience and just stood up and waved to the crowd instead of walking out at the show's end.