Sabrina Chapman Public Relations & Sally Shan presents VH1 Save the Music Foundation Benefit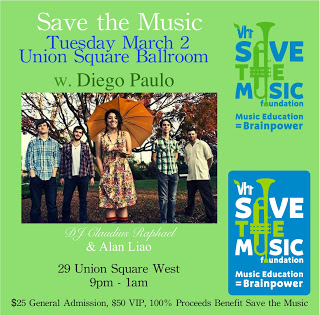 To Purchase Tickets:
http://vh1savethemusic-sallyshan.eventbrite.com/
It is our honor to announce Diego Paulo, the newest talent of world style music influencing the Americana music mainstream.
Diego Paulo, DJ Claudius Raphael, and DJ Alan Liao will be performing Tuesday, March 2, 2010, 9pm-12am at the spacious, beautiful Union Square Ballroom. VH1 will be filming the event.
Please join us for this most memorable one-night only performance, as we raise funds and awareness for VH1 Save the Music Foundation.
100% of the Proceeds Benefit VH1 Save the Music Foundation
Afterparty at Greenhouse Lounge "EDEN Tuesdays" starts 12am
About VH1 Save the Music Foundation:
The Foundation's core mission is to restore instrumental music education programs, ensuring that every child has access to a complete education that includes the benefits of music instruction. Students with music instruction are more engaged in school and less likely to drop out; and they do significantly better in all of their academic endeavors. VH1 Save The Music Foundation has proudly restored over 1,600 instrumental music programs in more than 100 cities nationwide, putting instruments into the hands of 1.2 million children.