Hello Everyone, I am very excited to announce my first giveaway (YAY!!!). I hope to do at least one per month to start and then increase a bit. So let's begin.
With these Siberia level snowstorms we've had recently, the schlepping back and forth from home to your destination has most likely really taken a toll on your poor feet (I know they have on mine) – from your feet being shoved into at least two pairs of socks then a winter boot, stepping ankle high into dirty slush (that somehow finds its way into your boots) or just pounding the snow covered pavements, your feet need a break!! Borghese has offered a lovely cure to your ills. Enter the Botanical Down™ Booties and sample of Piedi Vitale Therapeutic Foot Crème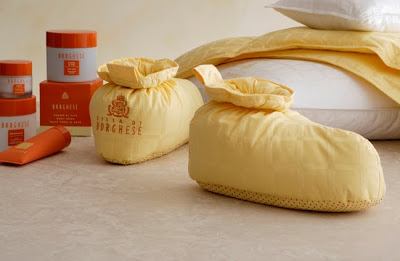 The Booties are crafted with beautiful 300-thread-count Italian Tile Dobby Cotton in Borghese's signature Ivory, finished with a natural aloe vera treatment which mirror their slogan – The Elements of Life. "The Elements of Life" is based on Borghese's notion of elements necessary for a healthy, beautiful life – rejuvenation, illumination, restoration, hydration and relaxation. You know how warm and toasty a down comforter is on a cold night. These heavenly Down Comforter Booties is your chance to pamper your feet while you relax at home courtesy of My Life on and off the Guest List and Borghese, Inc. Visit Villa Di Borghese for the entire Bedding Collection

To enter this must have giveaway:
Leave a comment on this post stating why you deserve these yummy booties

Extra Bonus if you:

Tweet this Contest (tag @guestlistblog)
WINNER ANNOUNCEMENT: Congratulations to Jessica (@jjak2003), you are the winner of the Borghese Down Comforter Booties. Hope these help you bar weary feet (winner selected at random by Raffle King)
A winner will be chosen on March 15th. This contest is open to US Residents only!
Tune into Rosie's Radio show 11am (EST) tomorrow March 4th, on Sirius 102 and XM 155. Borghese's CEO Georgette will be chatting with her BFF Rosie. Make sure to listen carefully and hear how to receive a special treat from Borghese while supplies last.