I love tea, everyone knows this, I grew up drinking tea so I love discovering new brands or just brands I haven't discovered yet. And this is exactly what happened at the Consumer Products Event's Breast Cancer Pink Products. I discovered
Revolution Tea
. Revolution Tea is a high quality tea company that are
"blends of premium full-leaf green tea, black tea, certified organic tea, white tea, red (herbal), peppermint (herbal), chamomile (herbal), aromatic fruits, spices and herbs. Our innovative and convenient Infuser, Teapot Infuser and Biodegradable Pyramid bags
complete the experience steeping the finest cup or pot of tea".
Unlike regular tea
bags, Revolution Tea uses premium full tea leaves which are housed in an innovative
Revolution Flow-Thru Infuser
; so instead of tea dust (that disgusting thing floating at the bottom of your cup) from paper tea bags that rip easily, you get nothing but richness and smoothness of the tea and nothing else.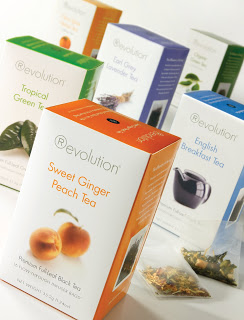 We got to take individual samples home, I chose the Earl Grey Lavender Tea and the Orange Chocolate Green Tea. Oh my god – angles sang, my tongue was alive, my body tingled all over when I tried the Orange Chocolate Green Tea. I know what you're thinking chocolate and green tea? Yes darlings the combination of the two with orange is spectacular – add a little milk and wow!!! If you like Chai tea, then you will absolutely love this. It is dessert and tea all in one without the guilt
The Earl Grey Lavender Tea is calming in more ways than one. While enjoying the full-bodied flavor of Earl Grey's black tea blends, you also enjoy the aromatherapeutic fragrance of blue lavender. It is the perfect tea to relax and put you at ease and get you ready for your workday without putting you to sleep.
I encourage you to try Revolution Tea; there are several locations in New York to purchase Revolution Tea such as Fairway, Manhattan Fruit Exchange, Really Cool Foods, Whole Foods, etc. You can also check Retail Locations for stores in your state, city or neighborhood or just buy it online at RevolutionTea.com