Attention Kipling fans, starting November 12th and on through November 14th, Kipling invites you to their first ever pop-up in NYC. Get ready to enjoy an immersive, interactive journey through #MyKiplingBag. Over the course of three days, a fully branded Kipling pop-up space will be filled with playful activities.
Attendees will get to enjoy complimentary on-site monogramming, surprise performances, transformative makeup vanities, visual sensationalism, bountiful bites, and crowd-sourced inspiration. Imaginative, individualized experiences like comedic personality readings are bound to stimulate the senses – and create a truly "out of the bag" adventure
.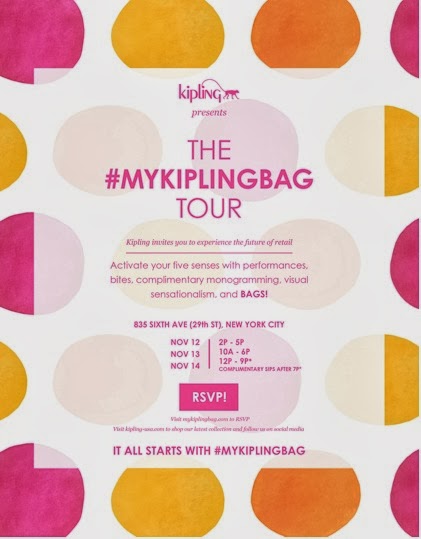 Kipling celebrates each individual's special connection to his or her Kipling bag through the above mentioned activities and introduces its new Monogram Collection on www.kipling-usa.com which is launching this holiday season, giving consumers the opportunity to take personalization to the next level – all with the click of a button.
The excitement continues into the digital space with colorful content central to #MyKiplingBag shared across all platforms by guests at the event. Fans of the brand nationwide will have the opportunity to participate in a #MyKiplingBag sweepstakes. Tune in to @KiplingUSA on Instagram, Facebook, Twitter, and Pinterest for more.
President of Kipling North America Julie Dimperio comments: "We have learned that when consumers know us, they love us. We are giving them a chance to interact with us in three key markets." Following the New York pop-up, hop on a plane down to Hawaii for a night of luau fun or hitch a ride to Miami for a festive Latin breakfast full of flare because Kipling will be taking the party south come December. No matter the city, it's bound to be a wildly quirky and fabulously fun time.
To RSVP and attend this wonderful event, click on the image above or click here – http://mykiplingbag.com/.