Report Signature Shoes
is one of my favorite footwear lines; so much so that when the below Report Signature Lucie Raffia Multi came out, I was on a hunt for them.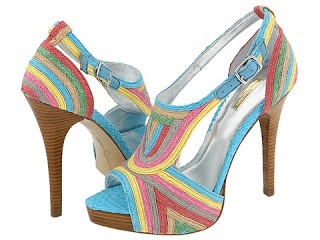 I was a bit late for initial launch (first shipment to stores) and they were selling out quite quickly – particulaly in my size. After two days to no luck, I started filling out "send me an email when my size was available" alerts for multiple online sites that carried the shoes (my friends were beginning to think I'd lost my mind).
It took a week for my prayers to be answered by Macys.com (longest week EVER I tell you) and all of 5 minutes to place my order (you have to love automatic accounts). I got my lovely shoes the next day and I kid you not, my hands were trembling while ripping through the package because I was so giddy with excitement. When I first saw Report Signature's…well..signature black shoe box – I hugged it. No, you're not seeing things, I did hug the box. I admit it might have been a bit..peculiar and my friends laughed at me….until I opened the box. The three of them went quiet and said WOW! (all at once), which was followed by a barrage of "damn those are hot", "remember we wear the same size" and "do you mind if I get a pair for myself" – HA!
This was about three years ago and even now, everytime I wear these shoes I get tons of compliments. So why am I rambling on about these report signature shoes? Well because ladies, I want you to have that same wonderful feeling.
In other words, ONE LUCKY PERSON WILL WIN A PAIR OF REPORT SIGNATURE HEELS to make your friends and strangers alike green with envy. They won't be the Lucie though but I promise you they are yummy. I'm going to keep this interesting and keep the shoe a surprise until I select the winner. This will be fun.
Report Signature is a line of designer footwear that mixes the playful, ready-to-wear sensibility of its other line, Report Footwear, with a more haute couture design aspect. It is loved by celebs such as Mena Suvari, Macy Gray, Katy Perry, Kim and Khloe Kardashian, etc.
The collection can be purchased at Nordstrom, Macys and Specialty Stores all over the US. For all of you lucky people in Seattle, Report Shoes opened up a retail store July 15th in Bellevue, Washington, located at 2042 Bellevue Square, Bellevue, WA (photos courtesy of Report Footwear). Can you sense my jealously from here Seattle?
To enter this must have giveaway:
Leave a comment on this post stating your shoe size
Extra Bonus if you:
1. Tweet this Contest – tag @guestlistblog and #guestlistblogcontests
2. Become a Fan of Report Footwear on Facebook and say "My life on and off the guestlist in Report Shoes"
3. Share this contest on Facebook
4. Follow Report Footwear on Twitter
5. Become a Fan of My Life on and off the Guest List on Facebook
REPORT SIGNATURE SHOE SWEEPSTAKES
NO PURCHASE NECESSARY. Void where prohibited. Must be legal U.S. resident, 18 years or older to enter. Sweepstakes to commence on Wednesday, July 22nd, 2010 at 12:00:00 a.m. Eastern Time ("ET") and end on July 29th, 2010 at 11:59:59 p.m. ET. My Life on and off the Guest List will determine (1) one winner by a random drawing from all eligible entries to receive (1) pair of Shoes from Report Footwear. Limit one prize per household. Odds of winning are dependent on the total number of eligible entries. Approx estimated retail value range of prize $150.00 – $350.00. Winner will be notified by email. Offer valid while supplies last. Giveaway sponsored by My Life on and off the Guest List; Prize provided by Report Footwear.
WINNER ANNOUNCEMENTS: Congratulations to Anna Aughenbaugh, you are the winner of the Report Signature Shoes Giveaway (winner selected at random by Random Number Generator)