Def Jam and Phat Farm Clothing Creator, Russell Simmons, in collaboration with giant retailer, Macy's introduced the Fall 2010 Menswear Collection of his newest clothing venture, ARGYLECULTURE. If you've ever seen Russell Simmons or just a photo of him, then he was most likely wearing an Argyle Sweater.
The ARGYLECULTURE Collection is currently only for men but hopefully a women's collection will launch in the near future. The brand, "aimed at the man over the age of 25 who has graduated from urban wear to a more mature look, mixes maturity, success and stability with hints of soul, pride and individuality". The ARGYLECULTURE man has traded in his bubble jacket for a blazer, his backpack for a soft leather briefcase or duffle and his baggie jeans for chinos
Thanks to my lovely cohort, Beauty by Benz for the above three images. See below for video of the presentation's finale
The event and all guests was being filmed for Russell's reality show which will premiere on Oxygen called The Russell Simmons Project. It will focus on the women in his life – mainly his female assistants that manage his business and his life.
Many celebrities were in attendance to help Russell celebrate his newest collection. Surprising, Russell was not wearing his signature Argyle Sweater/Vest to this launch – maybe he thought it'd be expected
Celebrity guests including Kwame Jackson from the first season of The Apprentice, who has a Menswear Accessories line at Macy's Called Krimson by Kwame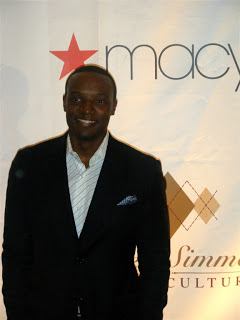 Kwame Jackson
Brooke Johnson
Brooke Johnson
Egypt – Hot97 DJ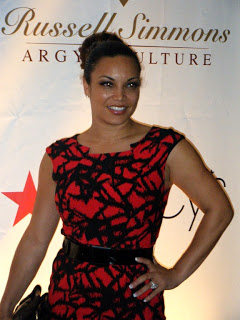 Egypt
Uber Fab Designer (whose clothing I hope to be able to afford one day), Nicole Miller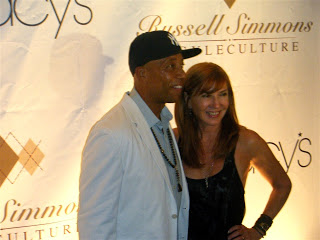 Russell Simmons Nicole Miller
the hilarious Anthony Anderson, who for some reason looks much younger than usual (share your secrets please sir)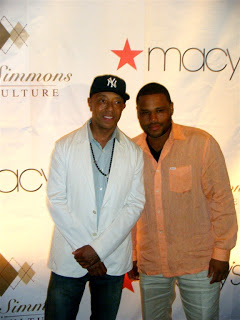 Russell Simmons Anthony Anderson
Adrienne Bailon, who always looks very adorable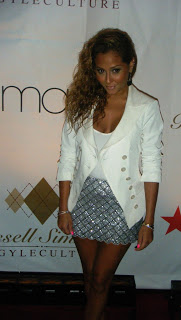 Adrienne Bailon
America's Next Top Model Veterans, Jade (below with model, Ibrahim from BET's Model City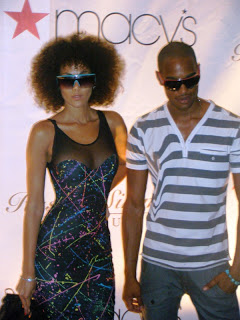 Jade Ibrahim
and Jaslene Gonzalez, who shocked me when she said her fab shimmy dress was Forever21 and her shoes by Steve Madden – she looks amazing
Celebrity Stylist Misa Hylton-Brim and DJ Steel (who has some very yummy lips and is being added to my Christmas wishlist)
Sadly, I left before Courtney Love arrived (I tried to wait but exhaustion got the better of me). i later found out she arrived after 10pm. In a time where our eyes are still scorched with visions of young men with their sagging pants around their knees – it is a blessing to see a more mature urban man. Note to the saggy pants wearers, if General Larry Platt's "Pants on the Ground" didn't sway you then listen to what the master of urban wear is telling you.
For more information on ARGYLECULTURE, click on ARGYLECULTURE on Facebook and ARGYLECULTURE on Twitter
Check out a few more photos from the event