During Mercedes Benz Fashion Week, there are usually a few suites where celebrities, editors, writers, etc get to relax in between the precious few moments between shows. One particularly amazing suite was presented by Victoria's Secret, who hosted a VIP suite which allowed guests to be pampered with massages, manis, and makeup touch-ups, all while receiving an exclusive sneak peek at 2010 Victoria's Secret Fashion Show sketches, viewed the just launched intimates, enjoyed an amazing lunch and got to experience the new Bombshell fragrance collection (check out the adorable chair with Adrianna Lima on it – I know some guys who would sacrifice an arm for that)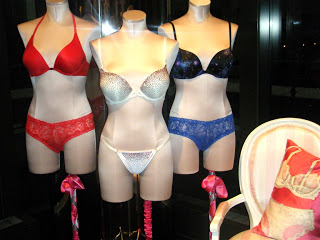 Several celebrities have made appearances at the Victoria's Secret Suite such as Veronica Webb, Denise Richards, Emma Roberts, Dania Ramirez, Jessica Szohr, Jessica Lowndes, etc.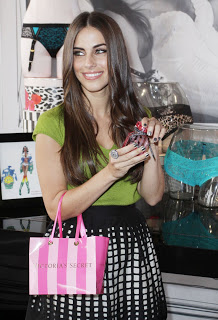 Attendees are able to recharge their cell and laptop batteries as well as their tired minds and bodies with an internet access and of course bombshell makeovers, manicures and massages courtesy of Oasis Day Spa
As mentioned above, guests were treated to an exclusive preview of the 2010 Victoria's Secret Fashion Show via sketches placed throughout the lounge
Bombshell Eau de Toilette, Body Lotion and Body Mist were featured throughout the suite and gifted to the celebrities, editors and other VIP guests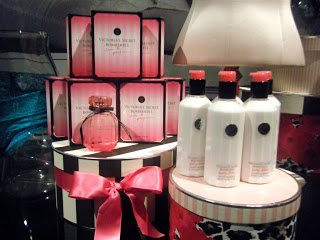 One of my favorite things about the suite besides the wonderful lunch and the fabulous massages and manicure (and funny life stories) from Oasis Day Spa's Barbara Mutnick (who so reminded me of a fun aunt) was the decor. I feel in love with the plush pillows with the imprint of the bra and panties and nightie but the silver high-back chair was a favorite of not just me, but everyone who entered the suite.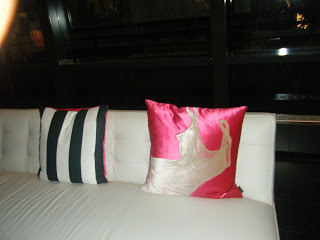 I really hope Victoria's Secret returns next season, this was a fantastic suite and they did an amazing job making everyone feel comfortable.
Celebrity Photos by John Parra/Wireimage