As everyone knows October is Breast Cancer Awareness Month. During this month, women, and men, are remembered and honored for their courageous fight against the disease as well as efforts made to raise awareness about the importance of early detection and prevention. There are numerous events and opportunities where concerned and sympathetic individuals can show their support. Whether motivated by a loved one's battle or simply by a need to do something, your efforts are needed and appreciated.
We will be featuring several companies that are committed to helping find a cure and raise awareness. They sell pink products with a portion of or all of the proceeds going to a breast cancer charity. Since October is here, I thought I would share some products you can purchase that will help you show your support through "PINK POWER".
Chung Shi Shoes
– The Chung Shi Shoe concept has a patented sole technology that provides massaging while walking or standing. This design has a center roll bar that is supposed to improve body alignment, stress reduction and reduce shock to the spine. Most importantly for me it is supposed to help burn calories and tone muscles. Because of the unique design of this shoe, it is recommended that you visit a Foot Solution store for tips on how to walk properly and what to expect while you are adjusting to the shoe's technology.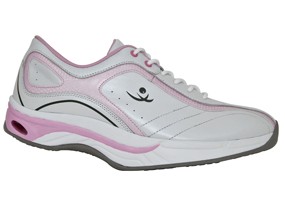 To learn more visit their website Foot Solutions. Be sure to check out the Susan!
Pink Balance Walking Poles – An innovative way to get your upper body in shape. Balance walking is a low impact activity that claims to have stress reducing and toning rewards. To accompany the Balance Walking Poles, you should check out the Pink Pole Balance Walking Book for tips and advice on how to help lower your risk of Breast Cancer.
From October 1, 2009 through December 31, 2011, Foot Solutions will donate $2 for each Pink Pole Balance Walking Book and $5 for each set of Pink Balance Walking Poles sold to Susan G. Komen for the Cure®, with a minimum guaranteed donation of $100,000. So show your support for breast cancer by being active in Foot Solutions gear! To learn more about the benefits of balance walking, please visit here – http://www.balancewalking.com/pillars