As I've stated in previous posts and as everything else has indicated – it's October and it's Breast Cancer Month. To fight against this terrible disease, Loft Cares is helping to raise money by having an amazing shopping event on Tuesday, October 12th. Loft has collaborated with three of their favorite jewelry designers (all happened to be New York City based) – Robin Renzi for Me&Ro, Kara Ross and Anna Sheffield to create three gorgeous jewelry pieces.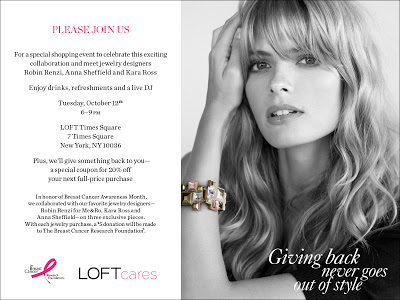 With a purchase of any of the wonderful pieces, $5 will be donated to The Breast Cancer Research Foundation. As you can see above, the event will be taking place at Loft's Times Square Location. Help raise money and awareness for a great cause while sipping on cocktails, enjoying hors d'oeuvres and great music. See more on the pieces below.
The gorgeous bracelet you see in the above photo is by jewelry designer, Kara Ross. The bracelet, which retails for $39.50, is described as "Square-cut jewel clusters in rose pink, grey and gold hues are arranged in a mosiac-like pattern for a bold yet pretty result. Gold finish hardware. Rectangular bar closure."
Below is the bracelet by designer, Robin Renzi for Me&Ro, a bracelet retailing for $34.50 which she stated was influenced by a plant in Jamaica. "Scores of luminous antique-gold finish charms are woven with tiny ruby-toned beads for an ethnic-inspired, modern glam result. Lobster claw clasp with adjustable closure."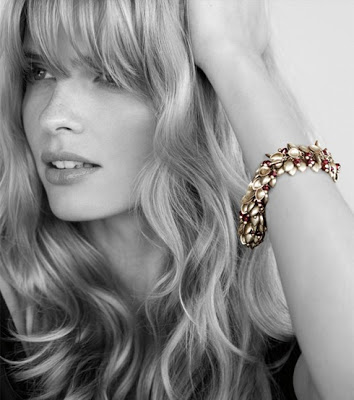 Last and certainly not least, it the necklace by designer, Anna Sheffield. "Floating clear jewels twinkle here and there, while a dangling antique-silver finish ring adds impossible charm. Tiny gold and silver finish chains are woven together and feature decorative knotted details. Lobster claw clasp."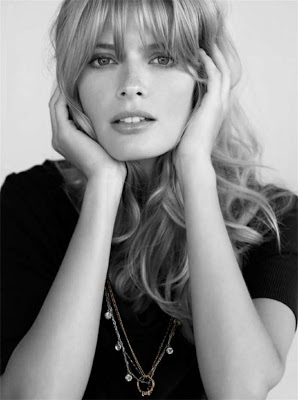 Can't make the event? You can also make a contribution by purchasing a Loft Cares Card. By purchasing the card for $25, not only is 90% donated to the Breast Cancer Foundation, you get 20% off every future purchase of $100 or more, through November 15, 2010 at LOFT, Ann Taylor, LOFT Outlet, Ann Taylor Factory stores, and online at LOFTonline.com and anntaylor.com.