I don't know about you guys but I hated and I mean hated the dreaded "fish sticks" we got for lunch at school and I use the word "fish" loosely (as did the manufacturers of those awful things) because if that was fish, I am the Queen of England. This hated has made me stay away from breaded and frozen fish until now. Thanks to
SeaPak
, I can now actually enjoy frozen fish because of their introduction of Popcorn Fish.
"SeaPak's Popcorn Fish is the fish stick made better," said Jenna Reed, SeaPak's Recipe Director and author of the company's Savoring Shrimp and Seafood blog. "We're confident when kids and adults try SeaPak's newest Popcorn Fish, they'll toss minced-fish fish sticks out to sea forever!"
Perfectly said!! I know if I had any of those fish sticks in my freezer, I would definitely replace them with SeaPak's Popcorn Fish.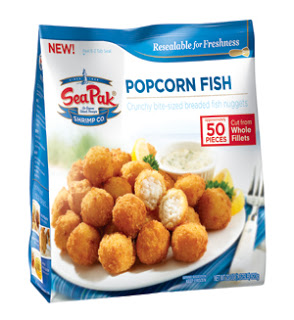 If you love popcorn shrimp, you will love this. If you love a good fish-fry (or maybe fish bake), you'll love this. SeaPak's Popcorn Fish are round, bite-sized treats cut from whole fillets of high-quality Pollock coated in light breadcrumbs (I hate when things are more breadcrumb than what they're covering – you won't have that problem with this) and they're just damn delicious. You can have it anytime – guests coming over? Have it as an appetizer. Tired of spending $10 on lunch? Make it your lunchtime meal. Got kids? Its excellent and healthy as an after-school snack. SeaPak Popcorn Fish is lower in saturated fat and calories than other popular brands and is made without high fructose corn syrup and MSG (um, eww, so not healthy). You can have it straight of the oven or be more creative and enjoy the following recipes.
Popcorn Fish BLT Salad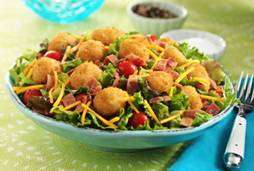 Prep Time: 5 minutes Cook Time: 15 minutes
Makes: 4 salads
Salad
1 (22 oz) package SeaPak® Popcorn Fish, frozen
1 bag of salad greens (or 1 head of iceberg lettuce chopped)
2 Roma tomatoes (or favorite variety of tomatoes), diced
4 Tablespoons precooked bacon or 4 strips of cooked bacon, crumbled (or substitute turkey bacon for a lighter salad)
1/4 cup shredded cheddar cheese
Dressing
1/3 cup extra-virgin olive oil
1 clove garlic, grated or minced and crushed with flat blade of a knife
1 tablespoon Dijon mustard
2 tablespoons white balsamic vinegar or white wine vinegar Salt and freshly ground black pepper
WISK together olive oil, minced garlic, Dijon mustard, balsamic vinegar in a small bowl. Season with salt and pepper to taste and set aside.
COOK popcorn fish according to package instructions.
PORTION lettuce into serving dishes.
TOP with diced tomatoes, bacon crumbles and cheese.
TOP salads with popcorn fish. Add dressing to taste and serve
Baja Popcorn Fish Tacos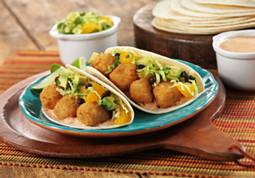 Prep Time: 8 minutes Cook Time: 15 minutes
Makes: 8-10 tacos
Tacos
1 (22 oz) package SeaPak Popcorn Fish, frozen
8-10 soft flour, heated according to package directions (can substitute crispy corn tortillas)
1 (16 oz) bag of fresh slaw (or 1/2 head of shredded cabbage)
1 (11 oz) can mandarin oranges, drained
1 (15 oz) can black beans, rinsed and drained
1 avocado, diced
2 Tablespoon fresh cilantro chopped (optional)
Juice from 1 lime (about 2 tablespoons)
1 tablespoon honey
Taco sauce (recipe below)
SeaPak's Tasty Taco Sauce
8 oz sour cream
1 (1 oz) packet ranch dressing mix
1 (1.25 oz ) packet taco seasoning
PREHEAT oven to 425F.
BAKE popcorn fish according to package instructions.
MIX sour cream, ranch dressing and taco seasoning. (You can use a little milk to thin the sauce if desired.) Chill in the refrigerator until ready to serve.
PLACE slaw (or shredded cabbage), mandarin oranges, black beans, avocado, cilantro in a large bowl.
PLACE lime juice and honey in a small bowl and stir together. Pour over slaw mixture and toss until well mixed and coated .
ASSEMBLE tacos. Spoon 1-2 tablespoons of Taco Sauce onto a tortilla. Add slaw mixture and top with a hot popcorn fish. Serve immediately.
SeaPak's Popcorn Fish retails for $6.49 and is now available for purchase at most Walmart Supercenters but will be available at several other retailers very soon. For more recipes for for the Popcorn Fish and other delicious products from SeaPak, do so by clicking on this Recipe Link. You can also learn more on SeaPak's products by checking out the SeaPak on Facebook page.