LOFT hosted an in-store shopping event at their Times Square location in honor of Breast Cancer Awareness Month in collaboration with three amazing jewelry designers –
Anna Sheffield, Kara Ross and Robin Renzi of Me&Ro.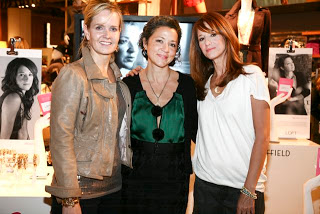 Kara Ross, Robin Renzi of Me&Ro and Anna Sheffield (L-R)
Each designer created a limited edition jewelry piece to benefit the Breast Cancer Research Foundation®. Guests enjoyed a live DJ, cocktails, photo station and sweet treats, while mingling with the designers
Disney XD Series' Pair of Kings, Kelsey Chow, was there to show her support for the cause by not only being there but also by wearing LOFT's Rosette Halter Cami in Rose Cloud ($54.50) under LOFT's Striped Merino Wool Blazer in Navy and White ($98), a pair of their Modern Skinny Jeans ($59.50) and the Me&Ro for LOFT's Lush Bracelet of dark pink beads and golden leaves ($34.50).
Naturally I donated to the cause (and my wardrobe) by making a few purchases myself, including the beautiful Breast Cancer Awareness from Anna Sheffield, which I found out is already sold out online but is still available in-store (I suggest you guys hurry). I have already worn it and happy to report have received lots of compliments which is not surprising since the necklace is a beauty. Check out a few more photos from the event below ( above photos of Kelsey Chow, LOFT Exterior and Three Jewelry Designers courtesy of LOFT)