Ok NYC ladies, it's that time again. Get your battle gear polished, start working on your shopping strategy, get that emergency credit card out of the freezer (I know I'm not the only one) and get your cash ready because the Rebecca Minkoff Sample Sale is here.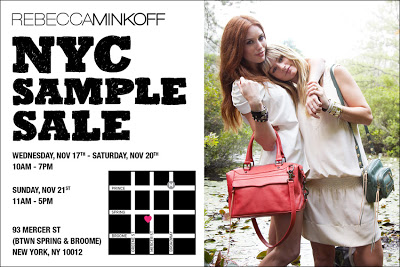 RUN, don't walk to: 93 Mercer Street anytime during the following times:
Wednesday 11/17 – Saturday 11/20: 10am-7pm
Sunday 11/21: 11am-5pm
or someone could be walking away with your coveted Rebecca Minkoff.
All major credit cards, cash, no checks
*Please note, all sales are FINAL. Any questions, pleaase call 212-677-7829