In the world of video games, we've lost game night. Do you remember the days when either you and your family or a few fun friends to get together to have a "battle of the sexes" (it always been to be men vs. women) or just an all out battle royale. Or perhaps you used to live out your magical fantasies with Wizards of the Coast RPG games like Dungeons and Dragons. Either way, time flew by as arms flailed about, cheating accusations were hurled backed and forth, laughter, screaming with delight at winning, made fun of one another, etc. You can get those days back with several new board games that are or will be available soon. Some of my favorites include: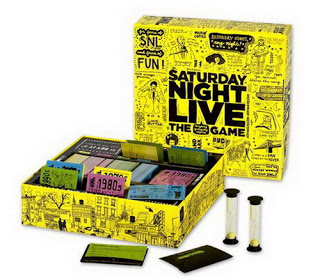 Saturday Night Live the Game – unless you've been living in a cave deep in the Earth's core since the 60's, then you are well aware of the awesomeness of Saturday Night Live. Test your knowledge of the famed television sketch show, which has been around since the 1970's, with this trivia game. The Game features several SNL-inspired activities such as acting, improvising, guessing, and of course, laughter. Players customize each game by choosing cards from the eras they know best (1970s, 1980s, 1990s, and 2000s). If you or anyone DVR's Saturday Night Live or can quote whole sketches from the show, then this is the game for you. This game can be yours or bought as a gift for only $33.00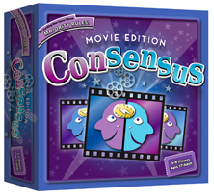 Consensus ® Movie Edition (the Original Edition is pretty hilarious too)- let me first note, this game is NOT a trivia game, it's better to call it an opinion game but it is nonetheless utterly hilarious and fun. It features questions from the top 150 movies of all time and makes a perfect game for anyone who loves movies. As I said it's not a trivia game, its a game based on opinion, here's some clarification: ten random movie cards are placed on the board and then a movie question is asked and you make a choice, there is no wrong answer…just fun and you have to love a game whose creator, Marshall Chrein, spent hours watching 200 movies to bring you this game. Consensus can be yours for $24.95.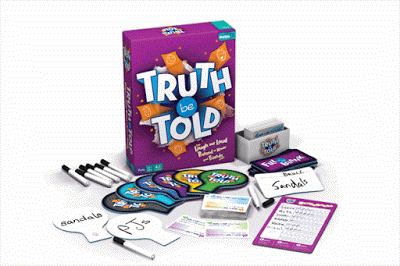 Truth Be Told from Buffalo Games is the new laugh-out-loud, pretend to know your friends party game. Each round, a player is the Host; the host reads a question card aloud and writes a truthful answer. The other players writes an answer they think the Host wrote. The Host collects and reads all answers aloud, and players try to guess the True Answer to score points.The result is a lot of laughing out loud and a great way to really know your friends. Truth Be Told retails for $27.99