While tweet-watching the Golden Globes last night one of my friends and fellow bloggers, Lisa of Beautybybenz, twitted "January Jones has such shiny hair" and she did.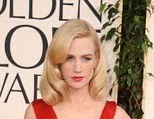 I was on the fence on her dress but her hair was super glossy and definitely had one of the best hair on the red carpet – totally enviable. Now, thanks to Celeb Hairstylist Scott Cunha, who will show you how to recreate this look using Leonor Greyl products
Scott Sunha also recreates another Golden Globe red carpet hair favorite, Natalie Portman, again using Leonor Greyl products (note: minus the large rose, I would've liked her dress)
I adore her as an actress and I loved Black Swan but this dress made her look a bit frumpy (pregnancy doesn't mean you have to dress frumpy) but back to the hair – I loved that she put her hair up in a chignon. I'm happy she didn't do the severe ballarina bun as many expected.
Scott Cunha, of the Andy Lecompte Salon in West Hollywood, has worked on Emma Stone, Miley Cyrus, Nicole Richie and Diane Kruger and is a huge fan of Leonor Greyl products – in his words, he's "obsessed".