Diesel invites you to the Music Teaser Tuesday Series at Diesel 5th Avenue starting on March 29th at 6pm with the events first featured Musician, Jesse Boykins III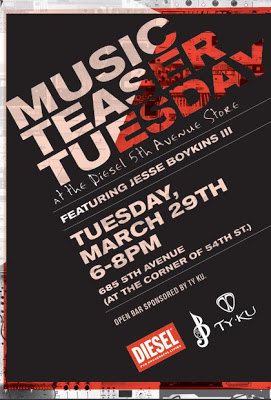 To get more information on the series, the featured artists, etc, make sure you follow @DieselUSA on Twitter.
About Diesel Music Teaser Tuesday Series:
The Music Teaser Tuesday series will happen every last Tuesday of every month at the Diesel 5th Ave store. A different new artist or band will play each time. Since the beginning Diesel and music have gone hand in hand, so this is another step to show the Diesel support for great music.