Hello you gorgeous eligible men,
Miracle Skin Transformer Men SPF20
is looking for the Next Miracle Man. Guys, if you have great skin, all you have to do is upload a photo of yourself (or ladies – your man) to the
Miracle Skin transformer Facebook Page
(make sure you "Like" their page first). Tell them your (his) skincare secret in 20 words and their favorite response will win a year's supply of MST Men and be the face of their men's website and promotional materials. You have until May 5th, 2011 to enter – better hurry.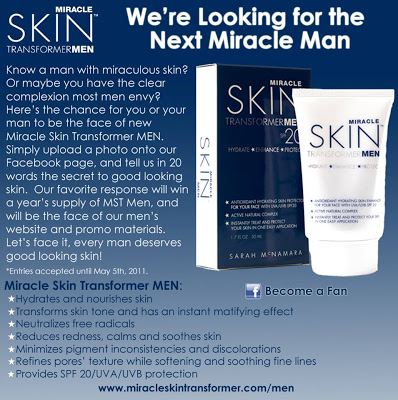 What is Miracle Skin Transformer Men SPF20? A one-step application daily skin treatment that gives men's skin everything it needs to look, feel and stay vital. It is the first-ever, naturally derived silicone skin treatment with powerful protection and hydration benefits designed for men's skin. It instantly enhances the skin with an antioxidant-rich natural moisturizing base, skin smoothing elements and a powerful UVA/UVB SPF 20.