Red hair seems to be the must have color of the season because this spicy hue has been popping up on several heads lately – both on celebrities and we mere mortals.
Actually, I'm currently a Radiant Red courtesy of John Frieda but you can be your own brilliant red with a temporary hair color that makes it easier for you to heat up your hair color. Get this season's hottest new hair color with Streekers.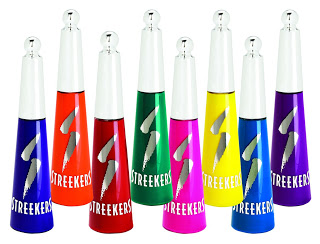 This unique hair color comes in a sleek portable bottle with a sponge-tip applicator to ensure neat, even application. With Streekers, eye-catching color no longer means hours spent in the salon chair and permanent results. Simply select your favorite Streekers hue and brush through strands for bold, show-stopping color that washes out when you're ready. The formula looks just as vivid a permanent color, but shampoos out in a single wash.For best results apply Streekers to dry hair in small sections, from root to tip and wait to dry before brushing.
Streekers retails for $10.95, is available in Red, Pink, Blue, Purple, Green, Yellow, Orange, and Ultra Violet and can be purchased at all ULTA stores or on www.streekers.com.