John Frieda® and SELF Magazine have joined forces to offer an amazing opportunity. You have the chance to
win a hair makeover from John Frieda's star stylist, Harry Josh
… in NYC! "So many women who come into the salon have absolutely destroyed their hair by over-styling, over-coloring, and generally overdoing it," explains Harry Josh, John Frieda® International Creative Consultant.
"They traumatize their hair trying to get a certain look, but then they can't maximize it because their hair is so fried. Full Repair™ offers them damage control that won't weigh their hair down, letting them style to the limit while actually reversing the damage they've done to date."
We all love to experiment with and style our hair; and the damage we inflict is often severe. Blow dryers, flat irons, curling irons are tools that we use everyday without giving it a second thought. Now, thanks to the John Frieda® Full Repair Collection, you can continue to use the tools you love without risking more damage to your hair!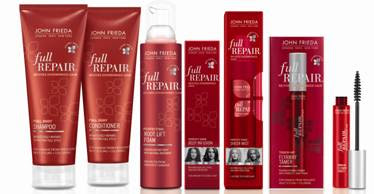 This salon-inspired collection specifically addresses an issue stylists are seeing with increasing frequency: short, broken hairs, flyaways and damaged ends caused by constant styling. John Frieda® developed the collection to repair damage due to heat styling and coloring, instantly transforming parched, damaged hair into smooth style with body and bounce.
Go to Self.com/prizes to tell us how you damage your hair and to upload a picture of your damaged 'do. Plus, be one of the first 1,000 people to enter and you'll receive a FREE John Frieda® product!