Attention all you college-aged designers, Loft and Marie Claire has teamed up to give you the chance to win a Marie Claire-produced fashion show with Loft's inspiring designs at your school. The Front Row Fashion Challenge, presented by LOFT, offers the once-in-a-lifetime opportunity to plan, promote, and style your very own runway show this October and November 2011.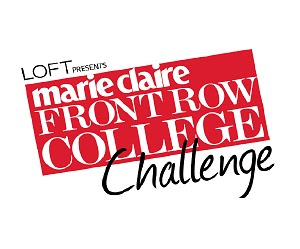 "Marie Claire has always believed in the importance of personal style, drive, and ambition. We're launching this exciting opportunity because we know that young women in this life stage are making their mark on the world in a variety of ways. We want to give them the tools to do it with style," says Joanna Coles, Editor in Chief, Marie Claire magazine.
The application process requires students to provide insights about their personal style, where they find their fashion inspiration, and how they communicate through social networking outlets. Judges will seek out young women who are interested in exploring the multi-faceted aspects of fashion business – from marketing to styling, and fashion show production.
The program offers students the opportunity to prepare for their impending leap into the workplace. Throughout the whole process, they'll learn the importance of first impressions, the value of networking, and the ways in which their future profession can influence their wardrobes – and vice versa.
Marie Claire's editors, alongside Alia Ahmed-Yahia, LOFT's Fashion Director, will be mentoring and ultimately judging each show from the front row. They will grant one winning student a coveted Marie Claire and LOFT summer 2012 internship.
"LOFT is thrilled to be partnering with Marie Claire on this exciting new program. Students are an incredibly important base of LOFT clients and we hope to introduce a whole new audience to LOFT on campuses around the country. This partnership allows students to pursue their passion for fashion and directly interact with some of the fashion industry's leading forces," says Deborah Cavanagh, Senior Vice President, LOFT Brand Marketing.
All currently-enrolled students can enter now for the chance to win on www.marieclaire.com/frontrowchallenge