***THIS REVIEW CONTAINS SPOILERS***

If you were a fan of the original 1985 released, Fright Night, then you will enjoy the 2011 3D version.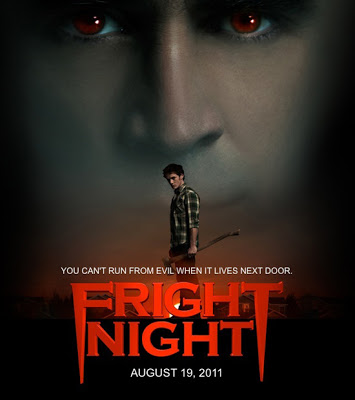 In Director Craig Gillespie's Fright Night, he took the basic elements of the 1985 Fright Night and updated it a bit. Charley Brewster (a very brooding James Dean/Luke Perry-esque, Anton Yelchin) realizes his neighbor, Jerry Dandridge (Colin Farrell) after realizing his former nerdish childhood friend, Ed (Christopher Mintz-Plasse) has disappeared like several other classmates. The 2011 Vampire Jerry watches Housewives of NJ, drinks beer and like the 1985 original – eats apples (its been said that Chris Sarandon thought the character, Jerry Dandridge was also part fruit bat and obviously Gillespie kept that in) and unlike 1985, crosses don't repel or hurt him at all.
Though the 1985 version had the vampires looking more scarier (the vamps in this version looked more like pretty monsters), I was especially happy to see Imogen Poots's Amy, transformation's was kept pretty close to Amanda Bearse's (no mention was made of this version's Amy reminding Jerry of his lost love). But my favorite performance from this version is Peter Vincent (a hilarious David Tennant), a self proclaimed vampire killer and Las Vegas magician who seemed a cross between Russell Brand and Cris Angel – a brilliant performance by Tennant! I found myself looking forward to more scenes from him as opposed to Colin Farrell. I found it intriguing that one character was missing – Jerry's non-human servant/carpenter/bodyguard, Billy Cole. The movie worked well without him but I kept wondering what fans will think. **MAJOR SPOILER ALERT*** One cast addition fans will love is the cameo by Chris Sarandon, the original Jerry Dandridge, many hoped he would somehow be involved and though its not major, this fan was happy to see the appearance.
Overall, I enjoyed this comedic horror. The only issue I had was with the 3D, it wasn't at all necessary. With the exception of two scenes, the 3D aspect didn't add anything more to movie – it would have been perfectly fine in 2D.
Fright Night 3D opens in theaters Friday, August 19th .