Recently, I've had the opportunity to try out
Enjoy Life
's new crispy and crunchy cookies. I can just imagine some health and weight conscious people putting up crosses at the mention of the word "cookie", but don't worry; these cookies are your friends because they're gluten-free, have no artificial ingredients or trans fats. In addition, if you suffer from food allergies and have found yourself in a situation where you've picked up some mouthwatering dessert at the supermarket only to have your heart broken after you've discovered you're allergic to something on the ingredient list, you can rest easy when you snack on
Enjoy Life's Crunchy Cookies.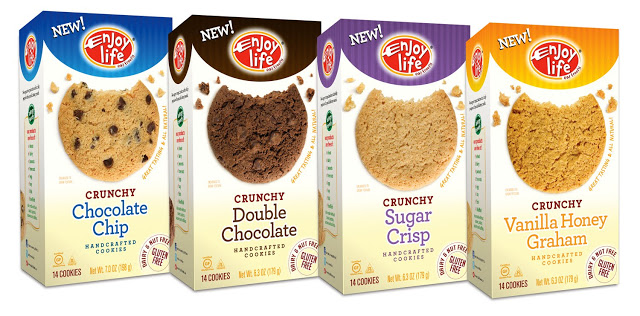 All Enjoy Life products are free of the top 8 allergens including wheat, dairy, peanuts, tree nuts, egg, soy, fish, and shellfish. Sounds great so far, right? That's not all! You can enjoy theses tasty, healthy cookies in four flavors including Vanilla Honey Graham, Sugar Crisp (to satisfy your sweet-tooth), Chocolate chip, and my favorite, Double Chocolate Chip (it's aroma alone can leave you on a chocolate high).
Feel like snacking? Find Enjoy Life products are available at natural food stores and conventional grocery stores throughout the US and Canada or you can purchase them through over 15 online retailers. Just visit www.enjoylifefoods.com/where_to_buy and you'll be pointed in the right direction!