There's nothing worse than trying to wear a fab spaghetti strap top when your bra has wide straps. Yes I am guilty of this offense because there has yet to be a comfortable bra invented that will supports my D's (or F's depending on the bra) that has a skinny strap. Or so I thought. I was introduced to
Pure Style Girlfriends
a few seasons ago that carry some amazing products that can tame even my bountiful gifts. It has given me the benefit of getting the look of wearing a t-shirt bra without getting the oh-so-tiresome "are you cold" comments from guys and has helped keep plunging necklines in place. As a top heavy woman, the three products I rely on are as follows: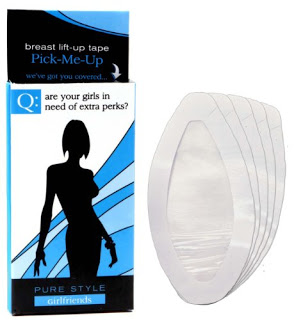 Pick-Me-Up is a breast lift-up tape that is sweat and waterproof, its really like having an instant breast lift. The area that goes over your nipple has no adhesive so it doesn't hurt when you take it off! Its perfect for wearing skinny straps and halter tops and really, after a while my bra straps hurt.

Smooth 'em without Adhesive and Smooth 'em with Adhesive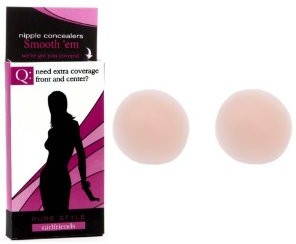 These are my favorites – with a uniquely tapered design, Smooth em's re-usable silicone discs gently adhere to keep nipples under control and in contour with your breasts while creating a completely seamless silhouette (this is how I fully enjoy the look of a t-shirt bra). So take control of that pesky "high beam" feeling (no more annoying "you must be cold" comments) and be confident yet comfortable throughout your fabulously bra-free day.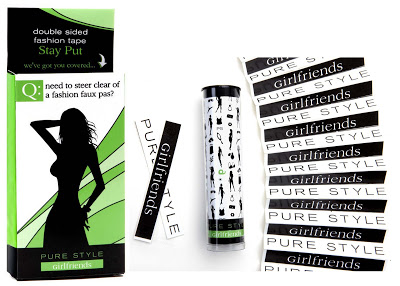 Every girl needs Stay Put, whether you're top heavy or not, this is a must to prevent fashion faux pas. Invisible. Reliable. Comfortable. Stay Put will help keep everything in the right place! The medical grade adhesive is water-proof and sweat-proof so it holds tight through a late night dance party or a play date with the waves – just peel and stick for the ultimate fashion fix-it! The best part, it stretches to move with you.
Of course, Pure Style Girlfriends has several products for the less gifted on top. You smaller ladies will especially love Perks, but its not the only solution offered. It's no surprise that celebrity stylists flock to Pure Style Girlfriends for their clients' red carpet appearances, maybe its time you got acquainted.