Yesterday, press and fashion stylists were invited by fab PR Company, the Krupp Group to preview Blue Notch Jeans's Spring 2010 Collection. Blue Notch is a denim company created in Japan (all the fabrics are made in Japan and made from the highest cottons from Egypt, Cameroon and Zimbabwe in a factory which boasts a history of 115 years) by a husband and wife team. The collection consists of various cuts – Skinny to boot cut, low to medium rise and long to cropped jeans.


"Blue Notch Jeans is a Japanese brand that is created for the nonconforming man and woman who appreciates the finer things in life without compromising comfort. The jeans are built with superfine Japanese denim with 5% stretch especially developed for unsurpassed comfort and style."
Two items in the collection stood out; a pair of jeans with side zippers as opposed to the usual front zipper fly which can usually result in an unattractive bulge in the middle. and metal ball embellishments on the pockets and legs. I love how sleek and clean the flat front looks.
Another favorite was a low waist overall dress was again made of that very soft and supple cotton fit perfectly on the body of the informal models.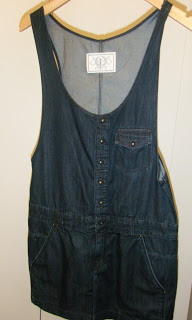 We were invited to try on a few pre-selected pairs of jeans to experience first hand the comfort of Blue Notch. I tried on several before settling on a low-rise, boot-cut light weight jean. I selected these even though it was a little challenging pulling them over my thighs but once on, they fit like a glove. You would think the tight fit would be restrictive but happily they were not. I was able to bend and sit comfortably. While I was trying on the jeans, I noticed the more petite and slender framed women were having less issues trying on the jeans (oh these thighs of mine). The cut seemed to compliment their lack of ample thighs a little better.
To learn more about Blue Notch, please visit www.bluenotchjeans.com