Are you the type who has a wild steak in you? Do you embrace color, prints and patterns in everything besides your clothing. Do you find plain beauty packaging a bit boring? Then
Lip Savvy!
has some bold new designs with an amazing line of no-sting and no-bleed glosses for anti-aging and plumping action.
Lip Savvy! Glosses come in 22 shades in two different textures to flatter any skin tone, plus they offer painless plumping action to hydrate lips and target fine lines and wrinkles with Hyaluronic Filling Spheres™ and collagen boosting peptides. They also put a damper on the aging process with a patented Complete Free Radical Protection Technology™.
Lip Savvy! Glosses come in two formulas: ColorGlam (12 colors) offers a matte, creamy finish to lips and Star Studded Shine (10 colors) to radiate with intense sparkle and multi-dimensional shine.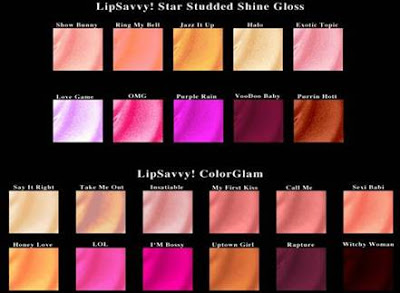 Lip Savvy! glosses offer total free radical protection, multiple collagen-boosting properties, prevention and correction of lines and wrinkles, instant and long-term painless plumping, and intense hydration. These glosses incorporate modern skincare and color technologies to give lips a fighting chance in the battle against aging.
Complete Free Radical Protection Technology™
Protects cells from all three known types of free radicals – RCS, RNS, and ROS – unlike other products that only offer protection against one or two types
Slows progressive skin damage such as lines, wrinkles, discoloration, collagen breakdown, loss of elasticity, and moisture loss
Cells receive greater benefits from anti-aging ingredients due to the absence of free radicals
Hyaluronic Filling Spheres ™
Instantly and painlessly plump lips
Quick wrinkle smoothing technology
Moisturizing
Peptide Complex Serum
Boost natural collagen production
Gives lips a firmer, smoother, more voluptuous appearance
Improves hydration
Improves lip contours
Redefines and minimizes fine vertical lines
The Lip Savvy lip glosses retail for $18.00; the collection will be available August 29th 2011 via www.belipsavvy.com