Celebrity stylist mobile salon, Hair Room Service and DailyCandy, the insider's guide to the sweet life locally and online, have created a free mobile makeover experience, known as the Beauty Bus, that will makeover Manhattan from September 22 – 24th.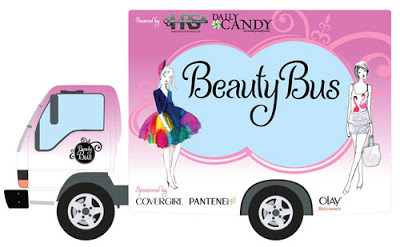 The Beauty Bus, a glass truck outfitted with styling chairs, mirrors, and beauty product must-haves, will invite Manhattanites aboard to receive professional makeup applications, DIY beauty tips, and hairstyling consultations. Hair Room Service celebrity stylists and DailyCandy editors will be on-site sharing their favorite beauty tips and looks. Sponsored by Procter & Gamble's Pantene, Cover Girl, and Olay brands, the Beauty Bus will stop in three highly populated locations over the course of three days including:
Soho on September 22 (Broadway, between Houston and Prince Streets)
Bryant Park on September 23 (Sixth Avenue, between 40th and 41st Streets)
Union Square on September 24 (Union Square West, between 15th and 16th Streets)
"We're thrilled to offer our readers an on-the-go beauty event with one of our local beauty favorites, Hair Room Service," says DailyCandy editorial director Ashley Parrish. "Enabling this kind of access to insider tips and personalized experiences is what DailyCandy is all about." Added Michael Dueñas, Founder of Hair Room Service, "Hair Room Service's talented hair and makeup artists are excited to update New Yorkers looks with the latest Fall hair and beauty trends."
The DailyCandy and Hair Room Service Beauty Bus will be open to the public from noon to 8 p.m. daily, with a VIP hour from 11 a.m. to noon. Additional supporting sponsors of the Beauty Bus include nimble™ by Balance Bar and Equinox.