Immunocologie
introduces two new cutting-edge skincare formulations –
Treatment Crème VenoMAX (pictured below) and Treatment Crème VenoMAX Light
. VenoMAX Complex contains anti-aging ingredients that relaxes wrinkles with a natural, plant-based peptide that mimics snake venom that fights chronic inflammation, a leading factor in aging.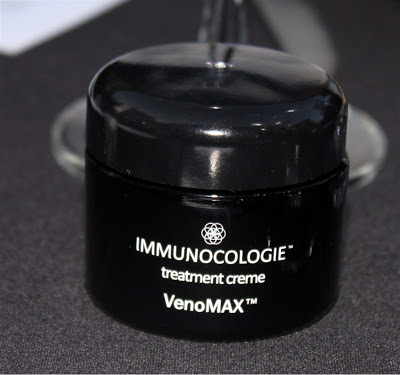 This "inflamm-aging" (a decrease in immune response and increase in inflammatory activity that occurs as we age) leads to the slow, but continuous production of free radicals that promotes wrinkles and sagging skin. Want to know more about the benefits of Immunocologie? See below for product bullet points:
Immunocologie VenoMAX products


• Instantly smooth fine lines and wrinkles
• Fight inflammation
• Promote natural hydration
• Reduce the appearance of skin redness
• Help erase past sun damage
• Promote even skin tone (my personal major issue)
• Brighten the skin
And to learn more about the technology of Immunocologie VenoMAX, click HERE. As noted above, my major skin issue is uneven skin-tone and with continued use (its only been a few weeks), I have noticed my dark spots are getting lighter. I've even received a compliment on my looking-healthy skin a few nights ago (something I've never heard, even while under a dermatologist's care). I can't wait to see what my skin will look like after I've used it for a 6+ weeks.
If your skin suffers from inflammation, hyper-pigmentation, dullness, redness, wrinkles and fine lines, etc – then this is your lucky day. I am offering one lucky winner a full size (1.7oz jar) of Immmunocologie Crème VenoMAX (retail $275.00), the Treatment Crème VenoMAX Light retails for $195.00. These miraculous anti-aging skincare products are available at Clyde's on Madison, White's Pharmacy and www.Immunocologie.com as well as at other fine retailers.
To enter this must have giveaway:

Leave a comment stating a fact about Immunocologie

Extra Bonus if you:

1. Tweet this Contest – tag @guestlistblog
2. Follow Immunocologie on Twitter
3. Like on Immunocologie Facebook
4. Share/Like this contest on Facebook
5. Be a Fan of My Life on and off the Guest List on Facebook
6. Share on Digg, Stumbleupon, etc


IMMUNOCOLOGIE GIVEAWAY

NO PURCHASE NECESSARY. Void where prohibited. Must be legal U.S. resident, 18 yrs or older to enter. Sweepstakes to commence on September 20th, 2011 at 1:00 a.m. Eastern Time ("ET") and end on September 27th, 2011 at 11:59:59 pm. ET. My Life on and off the Guest List will determine (1) one winner to win one (1) Immunocologie VenoMAX Treatment Creme. Limit one prize per household. Odds of winning are dependent on the total number of eligible entries. Approx estimated retail value of prize is $275.00. Winner will be notified by email. Offer valid while supplies last. Giveaway sponsored by My Life on and off the Guest List; Prize provided by Immunocologie.