There are many things I cannot stand but the one thing I hate is cigarette smoke. I hate when I'm walking down the street minding my business and a cloud of cigarette smoke blows directly in my face or when some chain smoker sits next to me – the stench is disgusting. Something even stronger in smell than cigarette smoke is cannabis. I understand that people use marijuana for all types of reasons, but the smell to me is repulsive! Nowadays, with
thc vape juice
available, the narcotic effect of smoking weed is supplied in a more subtle way; with plenty of flavours that vapes offer, why would anyone not want to achieve their high this way? I know giving up this nasty habit is quite difficult but there are products out there that are a great compromise – you get to enjoy your nicotine and we non-smokers are saved from the rancid stench of cigarette breath et al. One such great product is
Green Smoke E-Cigarettes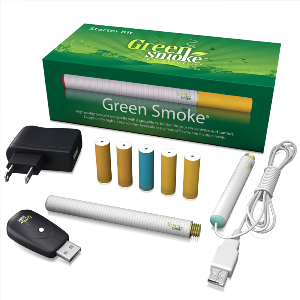 Above is the Green Smoke Starter Kit which retails for around $130.00 and contains:
1 Long Rechargeable Electric Cigarette Battery
1 Short Rechargeable Electric Cigarette Battery
1 USB E-Cigarette
1 USB Home Charger Kit (includes USB adapter and wall adapter) (100-240VAC)
10 Full Flavored FlavorMax™ Nicotine Cartomizers
Which I'm sure will save you money in the long run considering the cost of cigarettes these days (each Green Smoke® cartridge is comparable to up to 20 cigarettes). There is also a Social Smoker Kit and a Love Birds Kit if the Starter Kit isn't for you. Green Smoke® electronic cigarettes provide an enhanced smoking sensation unlike anything you have ever experienced. You might also want to try different products of this growing trend so you're able to try so many more alternative flavors of eliquid that are available for different eCigarette models! It gives you a sensation of smoking a traditional cigarette – but it's not a cigarette. The rich variety of flavors and exceptionally high vapor volume make Green Smoke® electric cigarettes the ideal way to upgrade your smoking experience. In other words, enjoy your cigarette without creating new cases of second hand smoke lung cancer patients. What are the benefits of this public-friendly cigarette?
An Unmatched Smoking Experience
Value of 12.5 Packs of Cigarettes
Incredibly Long Lasting Flavor
High Smoke Volume
No Cigarettes butts to dispose of
Lack of Cigarette Breath
No risk of falling asleep with a lit cigarette and burning your place down
Stay Charged with the USB Cigarette
Intro Pack Provides a Variety of Flavors and Nicotine Levels
Flavors include: Mocha Mist, Smooth Chocolate, and Vanilla Dreams are not available in California, Oregon, and Nevada.
Before we wrap up, a friend of mine is currently trying to give up smoking and she has found that switching to vaping has made the entire process much easier. Essentially, vaping enables her to manage her nicotine cravings in a safer and more gradual way. Plus, nowadays, there are so many different flavors of e-liquid out there that there really is something for everyone. For example, my friend is a huge fan of the Shortfill e-liquids. I suppose what I am trying to say is that if you are finding it difficult to stop smoking entirely, vaping might be a safer alternative and therefore it is well worth doing some research into whether making this change could help you to kick your habit for good.
So do yourself (and we poor non-smokers) a favor and invest in an e-cigarette, you won't regret it. Be it one of the Vape shop uk options, or this model, either way, it will likely help you and the people around you.
Essentially though, when you use Green Smoke® e-cigarettes, you can smoke in many no smoking zones like many bars, restaurants, coffee shops, bus stations and airports. Warning – using Green Smoke might cause more friendliness from non-smokers, people standing closer to you, the possibility of getting kissed more, saving money on gum, mints and other cigarette smoke masking tools.