At BCBG MaxAzria, it was a mix of late 80's early 90's chic with a bit of rocker edge in this body flaunting collection. It also confirmed that Spring 2010 will be all about bright and vivid colors, ruched dresses and lots of jersey and chiffon. The looks were edgy, chic but oh so feminine. This collection featured a perfect mix of soft and sexy silhouettes; it actually reminded me a lot of Michelle Pfeiffer's character, Susie Diamond, from 1989's The Fabulous Baker Boys or Kim Basinger during that same time period – sultry, sexy, a woman who knows how to use her feminine wilds.
I especially loved the print dresses from this collection – the contrast of the basic black mixed with the boldness of the print took the collection to another level. I remember an episode of Project Runway where one of the contestants, Qristal tried to so a dress that was half print/half solid color (I believe the solid color was a purple satin) in the episode with Lindsay Lohan but she didn't quite execute it properly. Below is what she was trying to achieve
My favorite was this Multi-colored one shoulder striped mesh dress. It was a simple chic dress in non-simple fabrication. I see the linkes of Heidi Montag or Mischa Barton in this dress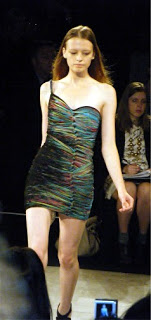 The 80's are back with an even bigger vengance than before ladies,so prepare yourself. Excuse me while I start to get my body ready. I leave you with the show finale.