We have become a society that needs to share our experiences, activities, fun moments, etc and we like to do it instantly. Kodak knows this and has introduced some great products that will allow us to instantly share those wonderful, fun loving and sometimes hilarious moments we capture. Kodak has a range of cameras and video cameras that feature their one touch share button and they make excellent gifts for yourself and your loved ones.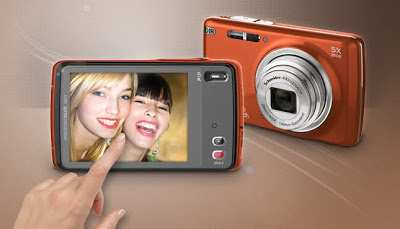 With one button (the Share button), you can automatically and simultaneously share your brilliantly sharp photos and videos (thanks to the high-resolution LCD touchscreen) to Facebook, Twitter, Flickr, YouTube, Kodak gallery and via email. This smart little Schneider-Kreuznach 5X optical zoom camera features several photo and color effects such as Sepia, Black & White, T-Max Film, Kodak Chrome, Tri-X and HD Video. What's even greater, when sharing to Facebook, you can pre-tag your Facebook friends right on the camera. Kodak's Share button makes sharing your pictures and videos as simple as 1, 2, 3.
Step 1—Just press Share when in review mode
Step 2—Choose your social media outlets, e-mail address, or KODAK PULSE Digital Frame
Step 3—Connect your camera to your computer or insert your memory card and your videos or pictures are automatically uploaded
Share the love for $139.95

PLAYFULL Waterproof Video Camera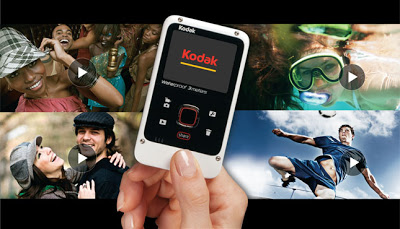 Share your amazing HD videos with friends or upload to all your favorite social media sites with this everyday HD video camera with its built-in USB arm for easy sharing, in-camera charging, and easy transferring to computer. The name says it all; this adorable, lightweight credit card sized Playfull video camera fits perfectly in your pocket or purse so its ready whenever you want to capture a memorable moment. Record up to 10 hours of HD video with the expandable SD/SDHC card slot that can hold up to 32GB. Rainy day or may need to do some underwater filming? No worries, this 720p HD, 2.0 inch Anti-glare LCD must-have device is waterproof up to 10 feet or 3 meters for up to two hours. Capture your videos in normal color or go artistic with black & white, sepia, high saturation or 70's film video effects. At $99.95, it makes a wonderful gift for any friend or family member no matter what age.
KODAK PLAYSPORT Video Camera / Zx5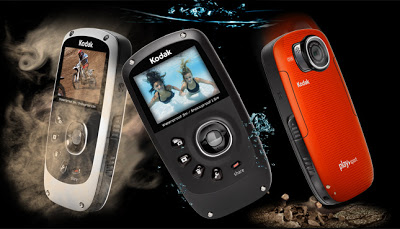 For those who live a more extreme lifestyle – you work hard and play harder, then this is the video camera for you. Shockproof, dustproof, and waterproof to a depth of 10ft with a built-in image stabilization smooths out even the roughest ride. A great gift for an one who's always on the move – skateboarding or biking teens and adults will absolutely love this especially since they also get to share their amazing skills with the ease of Kodak's one touch share button. The PlaySport also features full 1080p HD which captures 10 hours of your adventures in amazing detail and easily switch to still camera mode to catch 5 MP, 16:9 widescreen HD pictures. Edit and trim your videos, add a voice-over to narrate your footage or add pictures and music to your videos to make cool mashups. Go extreme for $179.95