What happens when a model competition show faces a competitor? Even before the untimely dismissal of it's fan favorite cast members, ANTM has been losing its shine and now after their release, long-time fans have promised to move on to something else. It looks like they will definitely have a fierce show to move on to which gets bonus points for snagging Nigel Barker. This will certainly not help the longstanding Naomi/Tyra feud rumors but Nigel will definitely bring in ANTM fans.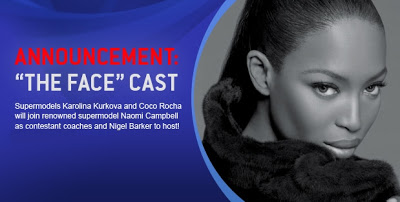 Nigel Barker will host "The Face," a new reality competition series that features aspiring female models in their quest to win the opportunity of becoming "the face" for a well-known brand. Along with world-famous supermodels Karolina Kurkova, Coco Rocha and Naomi Campbell (casting info is below). This dynamic quartet will be responsible for molding, nurturing and transforming the promising contestants as they compete for the career opportunity of a lifetime. Andrew Frank, a veteran showrunner ("The Amazing Race" and "Survivor") will serve as executive producer.


"The Face," which features three teams of models, each led by supermodel coaches Campbell, Kurkova and Rocha, will guide the young models through assignments, which include photo shoots, runway shows and commercials for some of America's best known brands. Throughout the series, the supermodel coaches will mentor these young hopefuls taking the lessons and skills they have learned and using them to guide their teams through challenges that accurately depict what it takes to have a career as a model and be the face of a brand. The coaches will scout and choose their teams from aspiring young models nationwide.
In the end, one girl will be chosen to become "The Face" of a well-known brand, earning a real contract as the brand ambassador. As the image of this brand, the winner will become a spokesperson for that company, representing it from all angles – in print, on-air and at brand-hosted events.
Interested in auditioning? The NYC audition has passed (it was on July 21st) but the LA audition is coming up. You must be 18 years or older to participate, and you must register before attending the following open call auditions:
Saturday July 28th, 2012
10AM-4PM


Location:
6250 Hollywood Blvd
Hollywood, CA 90028



Can't make the date? You can always make an online submission! Click The Face Casting for all the details!
The much-anticipated reality show will air in 2013 on Oxygen.