Thanks to Duo by Discovery Bay, "a new line of interactive products for the iPad®, designed for a wide range of ages, that create shared, togethertime gaming experiences with friends and family", those of us who grew up playing Atari games such as
Asteroids®, Centipede® and Missile Command®
will once again enjoy these games from those carefree days but on a more modern platform – your iPad.
Atari Arcade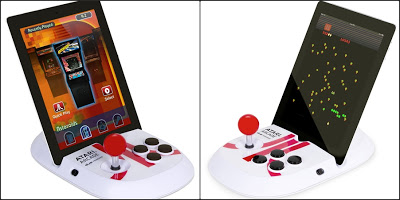 Above is the Atari Arcade, which brings a mobile experience of arcade classics right to your iPad for true arcade game enjoyment. With its authentic, retro design complete with an analog joystick and four control buttons, the Atari Arcade-Duo Powered is exactly the way arcade games were meant to be played! Unlike wireless connections, the hard-wired dock provides accurate and speedy response to actions taken with the joystick and control buttons while also powering the Atari Arcade without the need for batteries. The Atari's Greatest Hits app for Atari Arcade is designed for 1-2 players. You can download 100 games for only $9.99. The Atari Arcade is available now for $59.99 at Target, Apple Stores, Apple.com, and Toys R Us.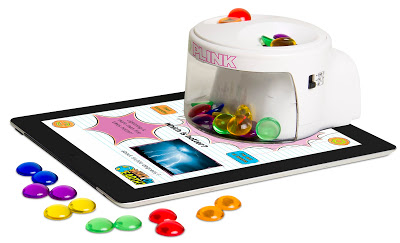 Duo Plink™ is a new and easy way to connect and learn more about family and friends. It turns your iPad into a digital game board. A great game to start out with which will give you the chance to really get to know family and friends is Yoomi, a free game that consists of players in the role of Guessers and Choosers. The guessers answer questions by placing tokens on the Duo Plink color that matches the chooser's answers. There's no worrying about score-keeping or counting as Plink drops the winning tokens into its bank or counting necessary and the person who gets rid of all their tokens wins. Duo Plink is available now at Target and retails for $29.99.
Duo Pop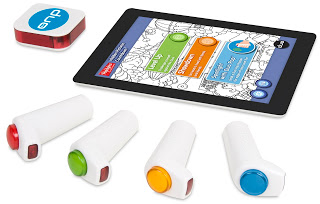 Do you love game show where the first one to buzz in with the answer wins, then you're going to love Duo Pop. With Duo Pop, multiple players or teams compete to be the first to pop their Duo Pop buttons and answer the questions correctly using one of four color coded handheld poppers. Duo Pop interacts wirelessly with your iPad for a night of interactive fun. A great game to try is the Saturday Night Live The Game, fans of the show will fully enjoy this trivia experience. The Duo Pop is also available now at Target, retailing for $39.99.