Normally I'm not a fan of thunderstorms, except if I'm at home under the covers enjoying a lazy day. Of course this was a different story when I was a little girl, I loved to play in the rain then. Today, the river-sized puddles we get in NYC are not a favorite of mine. It always seems that no matter how far you leap over it, you still get wet feet but thanks to Sorel Footwear that has changed. I'm transported back to being a little girl jumping into the rain puddles. Try as they may, most rain boots are not high on the fashion footwear list – don't get me wrong, there are some interesting prints and some brands have certainly made statements but as someone who loves her heels – I was always hoping for a more fashion-friendly pair of rain boots – one I can wear without clunking around. I found found my answer in the
Sorel Footwear Medina Rain Heels
– yes a real heel – 4" heel with 1" platform to be exact.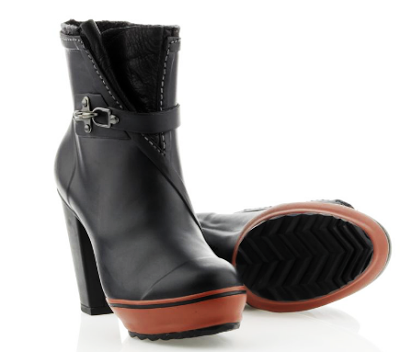 While this baby is a very fashionable rain boot, it's all business – it's vulcanized rubber provides a waterproof foot environment and a felt lined collar increases comfort so you stay dry, warm and protected in cold, wet weather conditions.
The Medina Boot is not all Sorel Footwear wows us with for Fall. The Slimpack Riding Boot is Sorel's lightest, most sleek Pac boot yet, offering the timeless style of an equestrian riding boot with incredible function and comfort.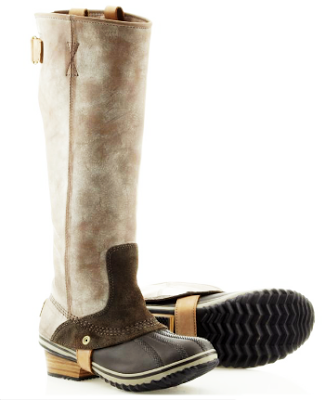 With this boot, Sorel has integrated waterproof warmth into the timeless silhouette of an equestrian riding boot to deliver a winter weather solution that will keep you dry and protected in cold conditions without sacrificing style. Another great boot is a bit more classic Sorel style. Inspired by Sorel's iconic Men's Conquest boot, the Women's Conquest Carly is the sophisticated sister.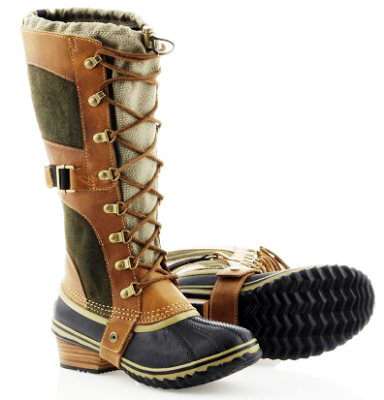 Lightweight and cozy, this insulated boot features a full-grain leather and nylon upper, rubber shell, bungee and lace closure and stacked leather heel to ensure that feet stay dry, warm and protected during everyday adventures in winter conditions.
I know my favorite, which one is yours?