Living Proof, the brand behind my favorite collection of hair care product range, Restore (my hair loves it), has launched it's newest innovative haircare product,
Prime Style Extender
, a first-of-its-Kind Hair Primer that doubles the lifespan of any hair style while enhancing shine, perfects your strands and keeps your hair cleaner longer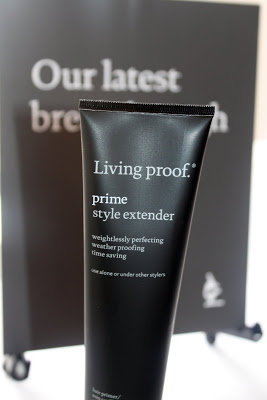 Throughout the day, moisture levels in the environment are constantly changing due to the weather (humidity is not our friend), air conditioning or heating indoors which results in your hair style falling, frizzing up and just plain failing. Thanks to Living Proof's miracle molecule, OFPMA, which protects hydrogen bonds from breaking and repels dirt and oil to prolong the life of any style. When you use heat to dry your hair, temporary hydrogen bonds are formed to "set" the style. As soon as moisture vapors re-enters the hair, it disrupts these temporary, weak hydrogen bonds.

Check out some more of Living Proof's Prime Benefits:
Anionic, negatively charged formula enables an exquisitely thin, uniform distribution of primer
Weightlessly perfects; ideal foundation for any styler
Formulated without any silicones or oils, Prime is easily compatible with other stylers, making it a universal beauty must-have.
Created with priming emollients that smooth cuticles, correct hair texture and detangle, increasing resistance to breakage from styling, Prime not only lets styles last longer, but hair looks smoother, healthier and shinier.
The Prime Style Extender launched this month and is available now at www.sephora.com for $20.00