Back in 1987 the British band MARRS was at the top of the charts with "Pump up the Volume" and today every editor, blogger and beauty guru is obsessed with volume—hair volume that is. We're not talking about the big hair of the 80s where celebrities and girls-next-door alike teased and sprayed their hair to death to reach great heights that for some could be really be considered architectural feats in their own right. Today we're all about the sexy, full touchable hair the graces the catwalks and red carpets. But how's a girl to go from flat, boring hair to the sexy bouncy hair worthy of a Victoria's Secret model without adding all that stiff, heavy product that only lasts about two hours. Enter the scene….
Living Proof
, the game changing beauty company that is changing the hair industry.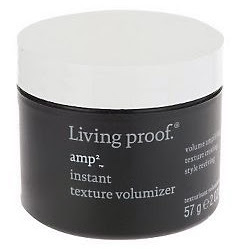 Living Proof recently released Amp2, a multifaceted new styling product that provides major volume while maintaining soft, touchable hair and flexible hold. The best part about it…is that Amp2 can be applied to dry hair for instant body and is "revivable" for up to 2 days!
No more curling irons or hot rollers ladies, Living Proof's Amp2 allows you to achieve big sexy hair in minutes. Perfect for everyday styling, that quick touch-up or in between shampoos, Amp2 gives your hair new life.
But what makes Amp2 so different than the other products on the market? Well…it's powered by Meta-Volume Technology—a patented blend of polymers containing PBAE. Sparing you the chemistry lesson, let's just say Living Proof has created the perfect volumizing product that works instantly but is flexible enough for re-sculpting without product build up. At the end of the day, you are left with longer lasting style, great body that's touchable and moveable. Safe for chemically and color treated hair, Amp is perfect for short to shoulder length layered hair—but great for everyone wanting body, texture and definition. Amp2 can be used with all styling products and works best when paired by to the Living Proof line of products.
Living Proof Amp2 retails for $24.00 and is available at Ulta, QVC and on LivingProof.com.
***A huge thank you to Tamara Walker of The Curvy Socialite for attending Living Proof's Amp2 launch event for me. MAke sure to check out her blog.