Well even if love is not calling for you yet, rest assured that it is definitely in the air! Not just love by the way, but all the things that pertain to love. Newness, carefree fun and party like revelry included.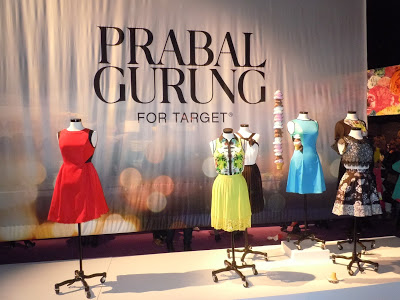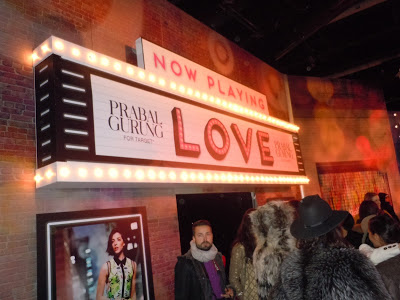 Not feeling it yet? Then you simply must read and look further on for Prabal Gurung has got the things that inspire love on his brain geared for your diminutive forms with his new collection for Target. In what was literally a cavalcade of fun, Mr. Gurung (pictured below) unveiled his lovely creations for Target's spring roster last Wednesday in the celebratory spirit of all that he loves about the season.
Showcased were pretty frocks adorned with bursting floral prints in both vivid full-bloom saturation and avant-remixed with honeycomb detailing, sweet delicate lace trims and panels and vibrant seasonal hues. The playful accessories served to enhance the form with a bit of whimsy, femininity and bling and were great accompaniments to the chic floral, color-blocked and color saturated dresses, blouses and skirts. From the gladiator-styled and ankle-strapped low wedge sandals to the precious crystal bracelets and necklaces, the accessories all had the appeal of statement pieces with a smartness to them that made them great accents even for a woman to incorporate into her already existing wardrobe.
The spring represents new growth and the colorful reawakening of clothing after a grey winter of full lengths and covered bodies. In this dazzling collection, Mr. Gurung shows off what he does best; pretty dresses and ready to wear with a modern sensibility for a women to live a fun life in while remaining coquettish, confident and pretty.

The launch was literally a carnival. Pier 57 was seemingly transformed into "Prabal's Theme Park of Love" complete with amusement park games that guests played to win stuffed animals and Target gift cards and a giant Tilt-a-Whirl in the middle of the venue.
The food was also just as lively as the games with everything from mini carnival french fry cups to Asian dumplings to caramel crab apples to hot dog bites. Then what caps off an theme park visit better than a live show? A live show with a performance from Grammy-winning recording artist Ne-yo who topped off a night of childlike revelry, however, it was all in celebration of the wonderful clothing and accessories.
The Prabal Gurung for Target collection launched February 10th at Target stores and at Target.com.