Creating something that is decidedly futuristic and timeless is quite a feat; Elliott Evan in his Fall 2013 collection seemed to accomplish exactly that. His introduction into New York Fashion Week, titled "NEVER FOREVER", featured a combination of items that layered and draped in beautifully asymmetric ways. Mildly somber and slightly haunting, the clothes conjured up imagery of men who have weathered lifetimes of arctic journeys, and showed no sign of stopping.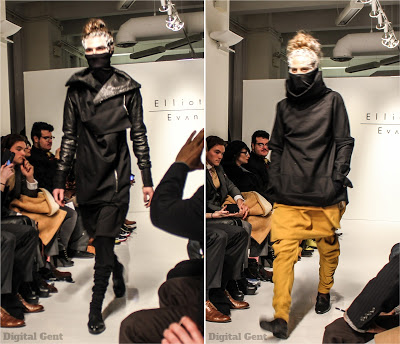 The pieces were the perfect testament to Evan's craftsmanship. Often times rugged looks can come across as lazy and unfinished, but there was no hint of that in Evan's collection. You could clearly see the thoughtfulness and refinement in the use of textures, layers, and embellishments.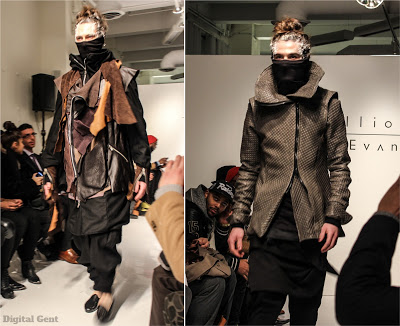 Evan blurred the edges of the class male silhouette, a trend we've noticed in several shows this season. Garments with high collars and swooping drapes gave a hint of life to an otherwise serious collection. Dyed wool, cotton, and leather added a dimension of warmth and comfort while reinforcing the concept of forever.
Congratulations to Elliott Evan, with what we would consider a successful debut into New York Fashion Week.
Visit the Digital Gent Photo Gallery for more images.
***A huge thank you to Gentleman Blogger, Andrew HoChoy of The Digital Gent for covering the Elliott Evan Fall 2013 Show for My Life on and off the Guest List this season. Make sure to check out his blog.