If you ever tried Carol's Daughter's products (and I hope you have), then you'll know how marvelous they are. They have so many great hair and skincare products, its difficult to select just one or two favorites. With their newest launch, Creator, Lisa Price continues to add even more wonderful products – combining calming and relaxing Lavender with skin softening and antioxidant Vanilla, Carol's daughter presents NEW
Lavender & Vanilla Collection
, a trio of luxurious body products that are sure to relax your body and soul.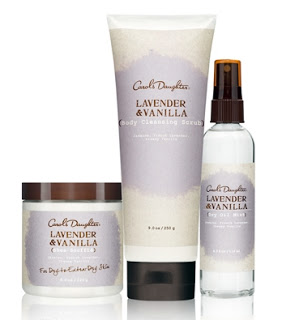 "I've always loved the way Lavender makes me feel calm, and I happen to have a not-so-secret love affair with Vanilla. The combination of Lavender and Vanilla is like the best of both worlds. Cool and warm. Fresh and exotic. All at the same time." – Lisa Price, Carol's Daughter Founder
The collection include:
BODY CLEANSING SCRUB ($28.00): This creamy, exfoliating formula refines and softens skin while increasing microcirculation to hydrate, smooth and firm. Carageenan deeply moisturizes, natural sugars gently buff and purify skin, while Vitamins C and E protect against environmental aggressors.
SHEA SOUFFLÉ ($13.00): This luxurious moisturizer conditions skin with lush, nourishing natural butters and oils. Cocoa and Pure Shea Butters combine with Coconut and Grapeseed oils to deeply hydrate parched skin while providing antioxidant protection, improving firmness and tone. As light and fluffy as a soufflé, the formula provides intense, penetrating moisture.
DRY OIL MIST ($21.00): This lightweight moisturizing body spray is formulated with Shea Butter, Aloe Leaf Juice and Açai Berry Extract to infuse skin with a natural glow and protecting against environmental aggressors, leaving behind a light scent. The super-fine mist allows for a quick and easy application anywhere, any time.
All three are available and can be purchased individually or as a set for $53.00 on www.carolsdaughter.com.