Get ready fans of the Samsung Galaxy S3 because the new next big thing is coming. Samsung has taken their iconic Galaxy S-Series smartphones and made it better. The latest smartphone, the
Samsung Galaxy S4
(launching late April 2013 in Black Mist and White Frost), has a 5-inch, 1080p display, touch-free capabilities, an amazing 13-megapixel camera (the Galaxy S3 has an 8-megapixel camera) with enhanced media and sharing capabilities, and fitness-tracking features.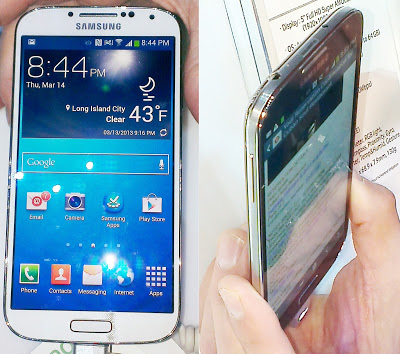 The S4 is slimmer, lighter and more solid than the S3 boasting an incredible full-HD Super AMOLED screen, a slim bezel encased in a special polycarbonate body making it the lightest Galaxy smartphone. Want to know more, start by checking out some video of JK Shin, Head of Samsung Mobile Communications, introducing the Samsung Galaxy S4, dubbed the Life Companion – slated to make your life simpler, richer and more fun.
While it boasts many of the features already available on the S3, the Galaxy S4 will wow you with some of it's astounding features (only a few are listed below):
Dual Camera/Dual Video Call – take photos simultaneously with the front and rear cameras allowing you to add yourself in the photo you just took. With Dual Video Call or Dual Video, friends and family can experience everything with you, no matter how far they may be.
S Voice Drive – developed for safety while driving – make calls, answer calls, organize messages, and ask for directions with both hands safely on your steering wheel.
Group Play – Get your friends together to create a powerful sound system that enhances the sound quality of your music.
Pictures with Sound – Don't just look at your photos, with the Samsung Galaxy S4, you can record and share a message about that amazing moment. Every picture you take on the Samsung Galaxy S4 come with sound to remember what was said, played, and heard.
Drama Shot – take a series of pictures of any moving subject and puts them together to create one amazing action shot
Air View/Air Gesture/Air Call-Accept – did just got a mani or are you hands dirty? motion your hand at the Samsung Galaxy S4 to accept calls, change music, or browse the web and your photos with Air Gesture. Enlarge content and photos, preview emails, and speed dial all with your finger barely hovering over the screen even when wearing gloves (not just texting gloves)
Smart Scroll/Pause – if you loved the the Galaxy S3's Smart Stay, the Samsung Galaxy S4 Smart Pause/Smart Scroll will blow you away. Automatically scroll up or down emails and websites when you tilt the phone from one side to another plus when you look away, the S4 pauses whatever you're watching and resumes play where you left off when you look back at the screen again.
S Health – get motivated for a healthier you with S Health. Track your workouts, daily intake, and weight levels, determine your comfort level based on temperature and humidity and monitor your progress with both Health Board and various charts.
Story Album – organize your photos and create albums based on specific events. Apply themes and various layouts then share with your friends via social media or in print.
S Translator – travelling to a foreign country? Easily communicate with locals by saying or texting what you need translated into the Samsung Galaxy S4 and it'll read or text back the translation. Say goodbye to language barriers.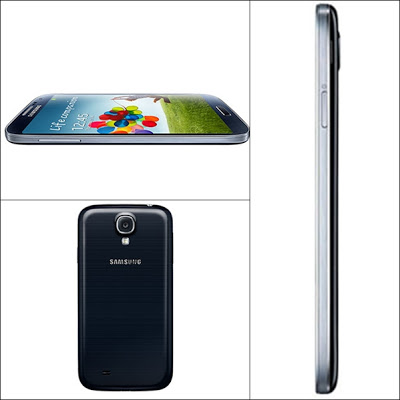 Check out another video of the amazing features available on the new Samsung Galaxy S4