Finally, thanks to Jergens, there is a way achieve that perfect sunless glow without the distracting chemical odor of sunless tanning products. Jergens has reformulated their popular collection of sunless tanning products to be odor-free. Gone is that distinctive scent that lets everyone know you're trying to achieve that perfect touch of color when you're forgoing the sun in favor of getting a beautiful glow the healthy way.

With the new, reformulated Jergens® Natural Glow Collection, there's no disadvantage to using this sunless tanner to achieve healthy-looking color. The only thing you'll miss is the sunless tanning smell….but seriously, you really won't. The entire range features the odor-reducing technology which still delivers the same signature Jergens® Natural Glow color and benefits. You may be wondering, what causes this malodor in the first place? According to Jergens®, the"unmistakable sunless tanner odor happens when the product interacts with skin – it's a byproduct of the reaction that delivers natural-looking color." Normally, without the malodor, there's no glow but the experts at Jergens® skin care spent seven years developing a solution to address the smell before it even reaches your nose. By blocking the receptors in the nose that pick up the malodor, Jergens® was able to prevent you from experiencing the smell that comes along with applying color enhancing formulas. In addition to this breakthrough solution, the entire range is formulated with odor-absorbing materials that further reduce the smell associated with sunless tanner and glow moisturizers.
"Scent plays a big role in how we present ourselves and how others perceive us," explains Dr. Rachel Herz, a leading world expert in the psychology of scent. "If a lotion or a cream doesn't smell good to you or others, that can overshadow the benefits of the formula. For a product that works as well as Jergens® Natural Glow and therefore makes women feel confident and beautiful, it's very important that the product's fragrance also be positive. The newly reformulated collection will help women wear Jergens® Natural Glow with confidence and make a positive impression."

The new revamped Natural Glow Collection includes:
• Jergens® Natural Glow Daily Moisturizer
• Jergens® Natural Glow Foaming Daily Moisturizer
• Jergens® Natural Glow Face Daily Moisturizer Sunscreen SPF 20
• Jergens® Natural Glow 3 Days To Glow Moisturizer
• Jergens® Natural Glow + Firming Daily Moisturizer
• Jergens® Natural Glow + Protect Daily Moisturizer Sunscreen SPF 20
As someone who uses foundation to get an even face canvas, I'm looking forward to trying out the Face Daily Moisturizer Sunscreen SPF20 so I can say goodbye to wearing makeup during the hot summer months.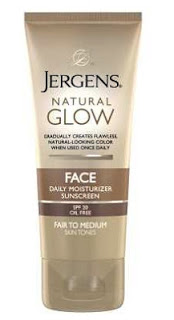 The reformulated collection became available at grocery, mass retailers and drugstores nationwide this month with individual products retailing for $8.99.