I can hear the passion calling, can you? In two days, we get to celebrate the smooth, sensual flavor of the oldest distilled spirit in the world – Rum!! Yes, my dears,
August 16th is National Rum Day
– be sure to enjoy a rum cocktail accordingly. I mean what better way to celebrate National Rum Day than with a delicious rum cocktail, right? With rum, the cocktail options are endless, as this season-less spirit provides many timeless, modern and exotically delightful concoctions. Of course to enjoy this day you will need a great cocktail recipe to help you celebrate. I advise you to try a rum that's more on the sweet and exotic side like St. Croix's own
Cruzan Passion Fruit Rum
.

Light and summery, Cruzan® Passion Fruit combines fine Cruzan Rum with the taste of fresh passion fruit to create a rum with extraordinary flavor, bright fruity aroma and a sweet citrusy finish. A perfect blend to enjoy the exotic fruit and the last few carefree days of summer. At Cruzan, they believe in the Don't Hurry lifestyle, where they take their time aging their finely crafted rums to deliver the perfect sipping experience for life's wonderful moments that need to be savored. It doesn't matter where you enjoy Cruzan Rum, but it does matter that you enjoy their Don't Hurry lifestyle……at least once in a while. You can live in the now this National Rum Day with the delicious Cruzan® Pineapple Passion cocktail, an ultimate tropical escape.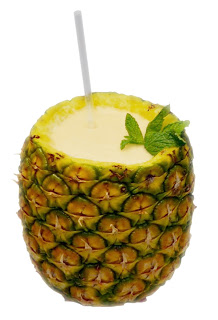 2 parts Cruzan® Passion Fruit Rum
2 parts Pineapple Juice
1 part Lime Juice
1/2 part Honey Syrup
2 Pineapple Chunks
Fresh grated Cinnamon
Combine all ingredients in a blender with 1 cup of ice and blend for 20 seconds. Pour into a cored pineapple and garnish with fresh mint. Note: Slice the top of the pineapple off a half-inch from the top. Core the inside of the pineapple. Don't have a pineapple corer handy? Core your pineapple with an ice cream scoop! Make sure you don't scoop all the way to the skin or your pineapple will leak.
Warning: Enjoyment of this delicious cocktail may result in you putting your favorite song on repeat, taking the dog out for an extra long walk, being nice to people at the DMV, and sharing your favorite rum cocktail recipes…so be cautious and enjoy National Rum Day.