The test to see if one is a true beauty girl is if, even after her drawers and closets are filled to the brim with beauty products, she still gets excited for more. Well, let it be known that I am a tried and true beauty fiend because when I got the chance to try Cocotique's August beauty box, I got so excited. It's a beautiful box geared toward women of color. A lot of times the cosmetic industry neglects products that will work specifically for darker women so this box is a great way to try things out. Also, a lot of the brands featured in the box are owned by women of color so, let's dig right in: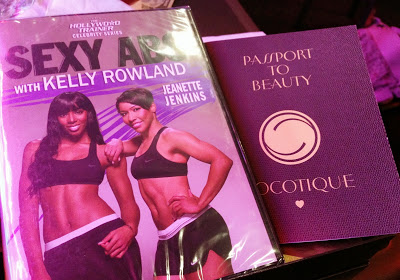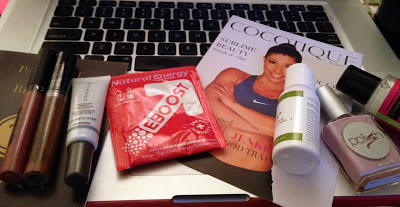 Sexy Abs With Kelly Rowland and Jeanette Jenkins and Eboost Acai
So many times we think beauty products will make us beautiful, but it's also about how we take care of ourselves and staying fit and healthy. I loved that these wellness items were in the box.
Polish & Co
Owned by a North Carolinian beauty maven, Polish & Co's polish colors are chic, and take cues from Fashion trends.
CoverFX Mattifying Primer
I am well versed in Cover FX products and I have this product so this was easily the product I was least excited about. However if you suffer from oiliness, try this out it's pretty good.
Curls Cashmere Curls Leave-In Conditioner
I'm not a fan of CURLS products for my type of hair, but if you have curly hair you might like this. Also, I thought the size of the product was pretty good.
Dermha Gentle Face and Body Wash
I haven't tried yet, but a key ingredient of it is hyaluronic acid which is supposed to be great for retaining moisture in the skin. I look forward to trying it.
Pretty Toes Fade-N-Cover
Woo! What an innovative product. Ever get frustrated in the summer with discoloration on your toes? Well here is a concealer just for concealing corns, lol.
***Thanks to Beauty Contributor, Laura of Blush and Beakers for reviewing the Cocotique Beauty Box for My Life on and off the Guest List. Make sure to check out her blog.