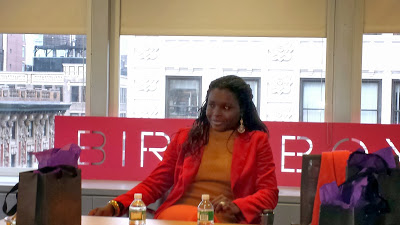 We get to attend so many wonderful events and while most are incredibly fun and memorable, a recent breakfast with Magatte Wade and her wonderful natural skincare line, Tiossan was the highlight of this year. Thanks to BirchBox and their November theme, More Good, a handful of Bloggers got to indulge in the sage words of Magette Wade and her products. Tiossan's divine-smelling body butters, scrubs, and skincare products are paraben-free, phthalate-free, cruelty-free, gluten-free, and vegan such as black seed oil and unrefined shea butter.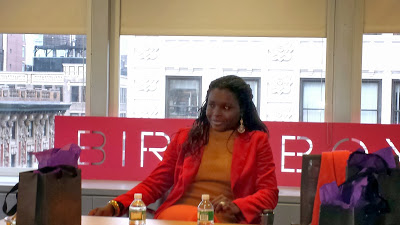 Magette gave us some great beauty tips and life affirmations that were just so amazing, you couldn't help but be empowered. She took us into her world of knowledge from elder healers (both her grandparents were healers in Senegal) who studied botany and plant medicine that have been passed down for centuries. She also told us how her experiences with multiple cultures(Dakar, France, Indiana, and San Francisco) influenced how she created her natural skincare collection. Her products are available in four french-inspired fragrances called The Tiossanas:
Fatale – for the sensual woman with vivacious energy; "she's deliciously bold, fiery, spicy, and enlivens the spirit of those around her.."

Flamboyant – the most joyous of joyful woman; she is fearless, strong, yet warm and nurturing

Femme – "goddess of health and well-being", the woman who has or wants stillness and a sense of calm

Terranga – the consummate giver, this woman knows how to renew your faith. A woman who is your best friend, caretaker, and peacemaker.
At the event, we were gifted with two of the products. I took home the Femme Body Scrub and Fatale Body Wash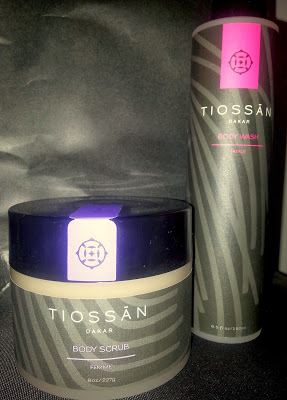 The vitamin-enriched Body Scrub is designed to remove dead skin and reveal a healthy, more glowing complexion. The uber-feminine floral amber notes restore a personal sense of calm and balance to your inner Femme.



The gentle and moisturizing, nutrient-infused Fatale Body Wash works into a rich lather for a refreshingly clean and glistening skin. The sweet and spicy exotic notes are perfect for the Tiossana whose weapon of choice is killer charm.
Not only are the Tiossan natural skincare products amazing, Magatte is using her beauty company as a powerful vehicle for change. "Sustainability is a lifestyle for Tiossan", says Magette Wade. She started the social mission, the Bottle of Ambition Project, where 10% of the sales from each product is donated to create new, innovative schools in Senegal. This will in-turn "create jobs in Senegal, expose Tiossan employees to world-class expertise in creativity, innovation, design, and entrepreneurship and to develop world-class expertise in creativity, innovation, design, and entrepreneurship for the next generation of Senegalese."
https://mylifeonandofftheguestlist.com/wp-content/uploads/2013/12/20131122_102422.jpg
225
400
Glasgow Skinner
https://mylifeonandofftheguestlist.com/wp-content/uploads/2020/07/Webp.net-resizeimage-1030x151.jpg
Glasgow Skinner
2013-12-07 22:00:00
2015-08-20 21:33:23
Birchbloggers Breakfast with Tiossan