A few weeks ago we were vicariously invited through our sister blog, My Life on and off the Guest List, to preview the luxury vegan nail lacquer brand, LVX Nail Lacquer at La Vie Zen Spa. During the event, we were lucky enough to preview LVX's current Fall 2013 Collection, which launched this past August, their Holiday Trio and the Winter Resort Collection which was released Thanksgiving. Guests were pampered with on-site manis featuring colors from any of LVX's collections. I went with the very rich, very lush Caviar from their Winter Resort collection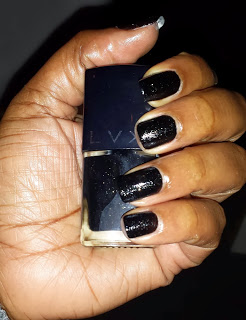 "Caviar pays homage to our very own Livid, a classic jet set crème. What makes Caviar especially distinctive is its final texture; the silver glitter particles act as a three dimensional element and make this ultra black crème all the more intriguing when dry."
I loved this color; it had stunning shine and was completely opaque in only two coats. The resulting jet set texture blew me away and received several compliments. I must note this was the first time my nails were dressed in black. Usually with vegan formulas, I experience chipping within a day but after 5 days, the LVX Nail Lacquer was still going strong.
The Winter Resort Collection consists of (from left to right) Magenta, Avalon, Scarlet, Graphite, Caviar and Sappir (a striking sapphire metallic crème – not pictured)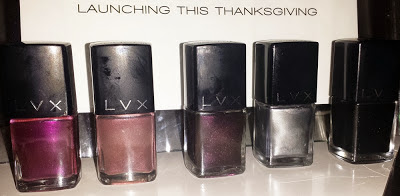 The Holiday Trio colors that are synonymous with the holiday season and from now through December 31st, LVX will be donating 20% of their proceeds of the sale of this set to PETA. The Holiday Trio features (from left to right) Sanguine, Luxe and Alchemy.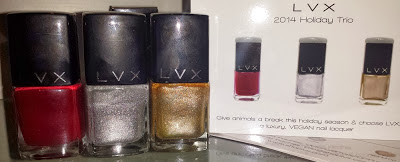 If you're an animal lover or looking to add healthier nail products to your collection with out losing the luxe and fashionable aspect, look no further than LVX Nail Lacquer. Featuring the top colors of the season, is long lasting, chip resistant with a gel-like formula that is free of toxic and harsh chemicals. LVX products are fomulated without the use of Formaldehyde, Formaldehyde Resin, DBP, Toluene, and Camphor without compromising quality, durability and finish.
xoxo

Nelly/The Nail Polish Exchange