It's Back-to-School time and with it comes back-to-school shopping. When it comes to style, it is all about being prepared for the school year with cool school supplies and unique beauty products, and this fall Sephora is giving everyone the chance to win just that with Hello Kitty's Head of the Class Sweepstakes.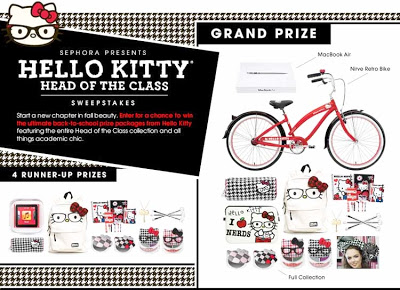 The beauty retailer has partnered with Sanrio on a sweepstakes full of prizes ready to take anyone to the Head of the Class this year. The amazing Grand Prize includes a Macbook Air Laptop, a Nirve Hello Kitty retro beach cruiser, a full Hello Kitty Beauty collection, Hello Kitty school supplies, and much more totaling up to $2,182.05. In addition, participants can also win 4 uber cute Runner-up prizes which include 1 Set of the Hello Kitty® Beauty Head of the Class Collection, 1 Set of Hello Kitty® Loungefly Nerd Accessories: Backpack,
Laptop Sleeve, Wallet, Coin Purse and Key Cap, 1 Mimobot® Hello Kitty® Nerd 4G Flashdrive, 1 Set of Hello Kitty® School Supplies (to be selected by Sponsor) or 1 Apple® iPod nano® (8GB; color selected by Sponsor).
To enter, just "Like" Sephora's Facebook Page, and fill out the form on Sephora's Facebook Offers Tab. The Contest runs September 3rd thru September 17th. Hurry up and enter.