There's an old quote by Henry Wadsworth Longfellow that goes
"Music is the universal language of mankind"
, and truly nothing brings us closer together. We especially love with when two music genres come together to create a great song much like what happened when Venice, CA-based rock band
Faulkner
and RZA of the Wu-Tang Clan come together to collaborate on their new single,
"NY Anthem"
, a song you can download for free (see download link below).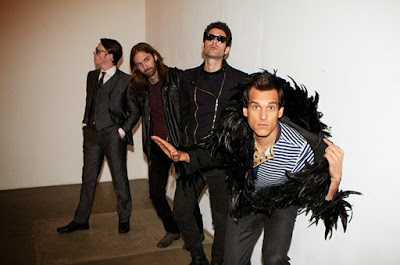 On the strength of their online demo "I'm Stoned" last year, the unsigned band attracted the attention of Mark Needham (The Killers, Imagine Dragons) and JP Bowersock (The Strokes) and began work on their debut album. Near the end of the sessions, the Wu-Tang Clan mastermind and celebrated producer heard a live demo of "NY Anthem" and offered to produce the track for the record. Penning a new verse, including memorable lines like "Redbones from Queens talk that Wu-Tang Slang," RZA met the band at Rick Rubin's Shangri La Studio at the end of January. Speaking to Billboard, RZA offered, "I like these guys a lot, If they ever want to bring me back in the studio to do some more work, it would be my pleasure. They put together a good mix of unique guys… They come from different walks, yet they all bring something to the table". Lucas Asher of Faulkner stated RZA is not only a great producer, but a true poet. "I was honored that he insisted on mentioning Wu-Tang Clan in his verse on "NY Anthem", I've always considered RZA the king of New York".
Want to hear the result of this cool collaboration? Download it here – https://soundcloud.com/faulknermusic.
Faulkner is comprised of principal songwriter Lucas Asher and producer and multi-instrumentalist Eric Scullin, supported by the powerful rhythm section of Dimitri Farougias and Christian Hogan. The quad plan to release their debut album later this year and are set to make their NYC return at The Mercury Lounge on March 18th, with more dates to be announced soon.